"So What Makes a Compelling Wavve Podcast Video?"
This was the question he posed to the Wavve Team by Yann Ilunga (@Yannilunga) during an interview on The Podcaster Lab. Yann asked this question and we realized we hadn't formally addressed it!
For those that are new to us, Wavve is a tool that turns your audio into custom-branded, animated marketing videos for social sharing. Wavve is ideal for promoting audio snippets from podcasts, radio shows, etc., or for recording audio on-the-spot so you can share a message with your followers via video. Our videos help you cut through the noise and get your audio more attention on social. Here is a sample:
After viewing thousands of videos created with Wavve, we have a pretty good idea on what makes a good one. Here are 7 guidelines to follow when picking that perfect segment and creating a video with Wavve:
7 Tips for Creating Great Wavve Videos
1. Keep it short.
Attention spans on social media these days are minuscule. There is research that suggests that, thanks to social media, humans now have a shorter attention span than a goldfish (ours is approximately 8 seconds, while a goldfish can hang in there for about 9)).
The animated videos that Wavve creates will catch the eye of social feed scrollers, but you only have between 30–90 seconds to convert them to your podcast or webpage and turn them into a subscriber. That's why whatever you're putting out there needs to be high quality, engaging, and valuable to your target demographic.
Fun Fact: 5% of online video viewers stop watching after 1 minute. After 2 minutes, 60% of viewers will stop watching (Hyperfine Media).
2. Showcase your interviewees.
Remember, you brought that guest on for a reason! They most likely had an interesting story that will catch people's attention. Previewing interesting snippets from your podcast interview and tagging the interviewee on social along with the video is very effective. This kicks off social sharing and can drive more reach/engagement on social. Also, your interviewee will love hearing their voice featured in a video on social.
3. Pick a clip that gets to the point.
You are always competing with thousands of other tweets/posts at any given moment, so get to the point quickly. Avoid clips with long musical intros, long pauses, or a slow build-up. You want your audience to be engaged right from the first second.
4. Start with a great image.
If you want to catch someone's eye when they're scrolling high-speed through their social media feed, then you have to start with a great image. Whether you use your podcast's cover art or an image created specifically for this episode, you want it to draw in potential viewers. Check out these examples:
For design inspiration and assistance with quick and easy image creation, check out Canva!
5. Add captions.
Studies have shown that 80% of videos on social media are actually watched on mute. So if your video doesn't have captions, you're missing out on a huge number of potential viewers. By adding captions, you make it easy for your audience to watch your content anytime (even if they're in public and need to keep their mobile device on mute). Wavve has the option of creating captions as well.
6. Optimize for each social media platform.
When it comes to sharing your videos on various social media networks, there's no such thing as a one-size-fits-all approach. But we're prepared for that here at Wavve. That's why we offer multiple design dimensions. So whether you're sharing your video to YouTube, Instagram, Facebook, Twitter, or as a Story, you're all set!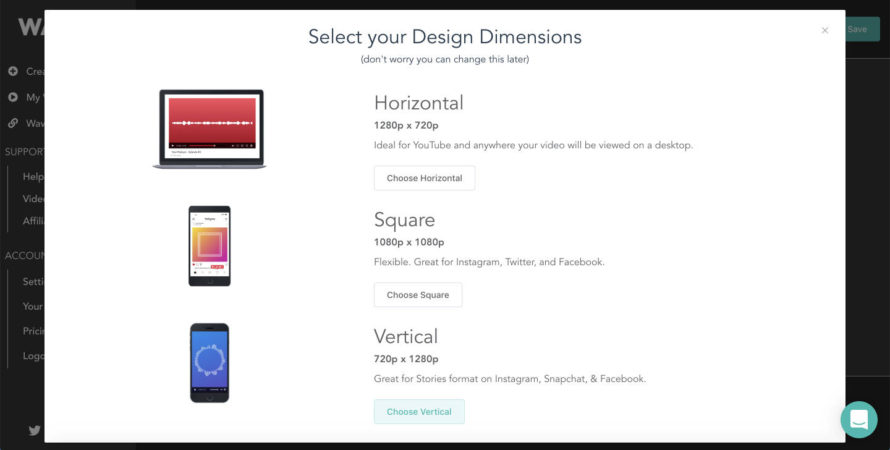 7. Most importantly, have fun and tell a good story.
Or at least begin telling a story in the short amount of time you have. Share clips that are fun, emotional, moving, or begin to tell a story that will captivate listeners. Stories are the best way to relate with potential listeners and get them hooked on your content.
Need some inspiration? Check out our Instagram account to see how other podcasters and digital audio creators are showcasing their best content through video.
Interested in turning your audio into shareable marketing videos with Wavve? Get started for free here.