Marketing audiobooks in the past meant authors called their agent to see how it was going.
Wouldn't that be nice? The playing field looks a lot different these days.
Anyone "tuned in" to the audiobook industry knows it's a rapidly expanding marketplace. More and more authors jump on board each day.
And simply having an audiobook available on the market or relying on your agent to do the work for you won't cut it anymore.
If you want your audiobook to find its way to the ears of potential listeners, you'll need to be as savvy with your audiobook marketing as you were with its creation.
That's where social media marketing comes in.
Social media is currently one of the best ways to market your audiobook and boost its visibility on the global stage. With the right tactics and strategies, you can unlock a world of potential listeners who want your audiobook.
And that's why we're here to discuss the power of social media marketing for audiobooks and share the best practices to maximize your reach.
So, let's get started!
Why do you need Social Media for Marketing Audiobooks?
Some authors may initially wonder why they need to bother with social media for their audiobook marketing. After all, isn't that what their agent is for?
The answer is yes and no. Your agent will definitely do the heavy lifting when it comes to getting your audiobook out into the world, but that's just the beginning.
If you want to take your audiobook from a mere blip on the radar to an international sensation, you'll need to do more than just wait for your agent or publisher to make it happen.
And social media marketing is the key to unlocking that potential.
Social media has become a revolutionary force in the book marketing landscape. In 2021, NPD Group reported that book sales reached an all-time high of 825.7 million in 2021 (a 9% increase year over year and 19% ahead of 2019), with TikTok helping sell 20 million books alone.
Of course, these numbers reflect print books, but the same principles apply to audiobooks. Besides, with audiobooks gaining in popularity over traditional print books — they are projected to reach a market of $19 billion by 2027 — it's more important than ever to use social media to help boost your audiobook's discoverability.
Best Practices for Marketing Audiobooks on Social Media
If social media doesn't come naturally to you, don't worry. You're not alone. As an audiobook author, you likely spend a lot of time creating content and perfecting your books, not necessarily mastering the latest trends in marketing audiobooks. But that doesn't mean you can't use social media to your advantage. With the right guidance, you can become a social media pro marketing audiobooks in no time!
Check out these best practices to get you started:
Build a Following Using QR codes:
You don't start any social network with an audience ready and waiting. So, where do you get your followers? The best way is to connect with your readers offline and then direct them online.
If you're participating in conferences, book tours, book signings, or other book-related events, slap on some QR codes linking directly to your social media pages on your promotional materials. QR codes are those square-shaped barcodes you might have seen on your packaging labels and product tags. Capable of being read by most smartphones, these codes serve as the portal between the offline world and your online presence.
Now, you can also mention your social media handle in passing or include your page link on bookmarks or any other printed material distributed at the event. But the chances of people actually going through the trouble of manually typing in your URL or searching for you online are pretty slim.
Using QR codes, however, makes it much easier for your potential followers to connect with you. All they have to do is point their smartphones at the code, and they'll be taken straight to your page. No tedious searching or memorizing of URLs.
Plus, the internet is brimming with free QR code generators. All you need to do is plug in your social media page URL or website, customize the design, and you'll have your QR code. Some paid QR code generators even offer tracking and analytics to give you insights into the success of your QR code campaign.
Announce Your Audiobook's Release:
Nothing screams an audiobook release louder than well-timed announcements. And social media is the perfect place to make sure everyone knows about your audiobook. So as soon as you have a release date, start building up anticipation in the weeks leading up to it.
Announce the release date, talk about why you created your audiobook, post a few teaser clips, and get your followers excited. This will get people talking about your audiobook, amplify its reach even further, and keep the buzz going long after it hits the shelves.
Ruth Ware, for example, shared a short audiogram of The Turn of the Key's audio sample along with an image of the cover on Instagram to whet her followers' appetite and announce her new audiobook release.
Jeff Belanger's Twitter post announcing his first-ever audiobook, meanwhile, included a playful photo and other pertinent details like retailer and pricing information.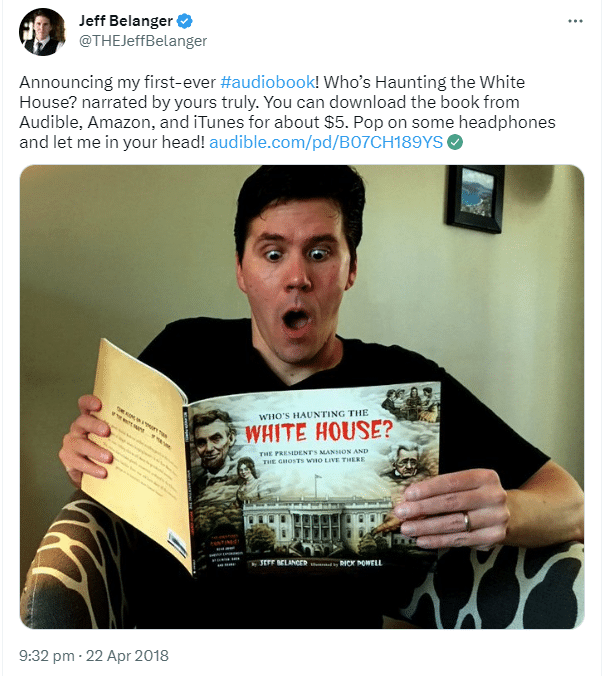 Prioritize Community Over Sales:
The publishing world has gotten so competitive. Authors find themselves getting swept away in the race for more sales and followers.
Sure, you want to boost your audiobook sales and attract more fans, but you can't just keep flooding people's feeds with your Amazon link or following everyone you can, hoping they'll follow you back. That kind of cold, impersonal behavior won't get you very far.
The real value of social media lies in engaging meaningfully with your community. Your followers are more likely to look into what you offer if they feel you're authentic and genuinely invested in the conversation. So, get involved in the writing community, join relevant discussions, and watch your popularity soar.
You can take notes from fellow authors particularly active on social media, like Brigid Kemmerer, who regularly invites followers to Q&As over Instagram Live and even interacts with other authors.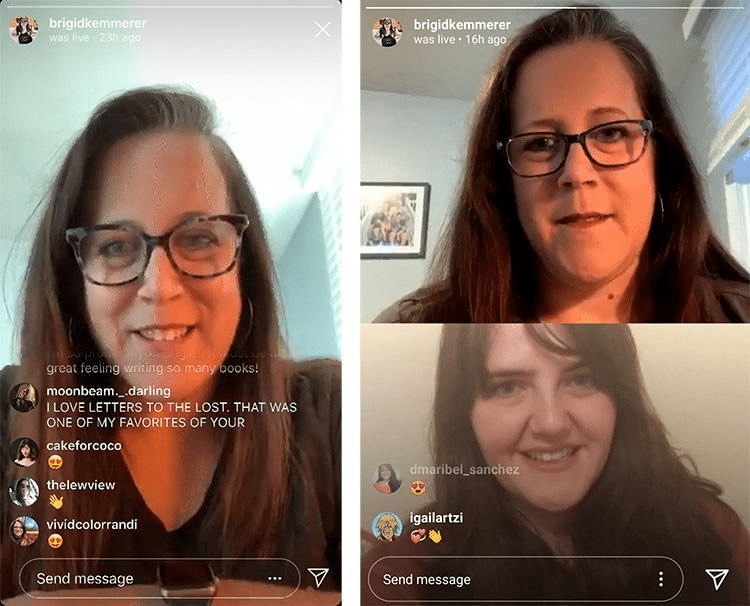 Or, copy the approach of Brad Thor, who provides an intimate glimpse into the steps of forming one of his stories by sharing behind-the-scenes photos from his research trips on Facebook. His fans go wild for it!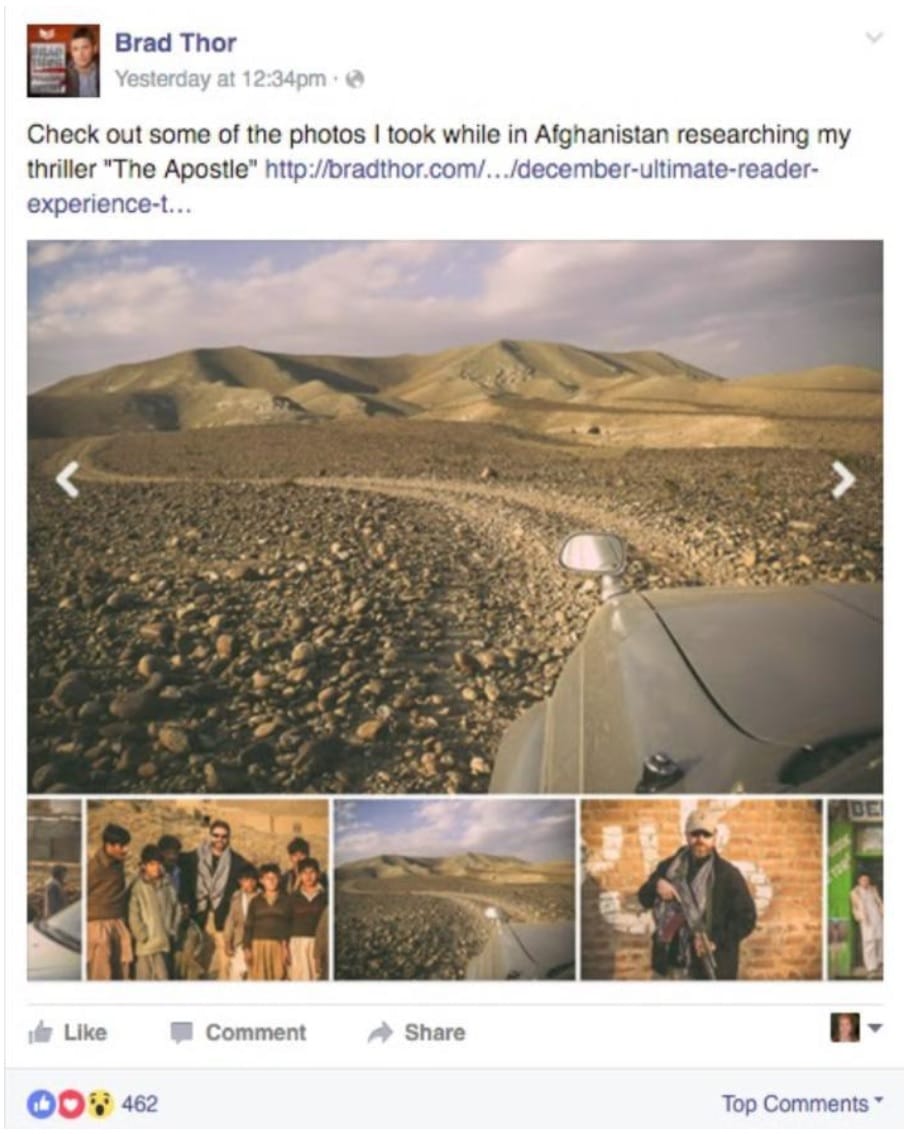 And if nothing else, follow Jude Deveraux's lead and share your love for books with your followers.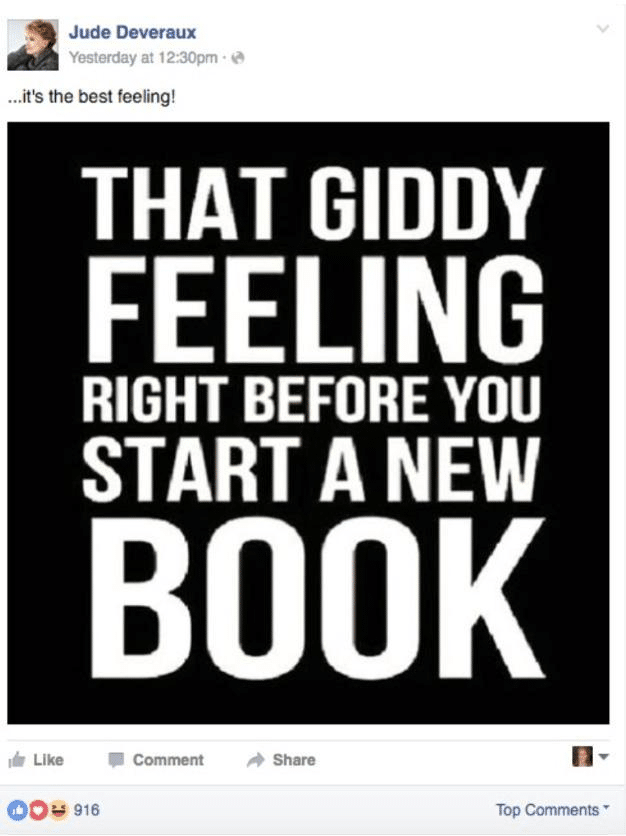 This simple quote from Deveraux got nearly 1,000 likes in less than 24 hours! Your audience doesn't need fancy stunts to engage with you. Just a few honest words can do the trick!
Sharing your favorite bookish quotes, discussing exciting books you've stumbled upon, and offering insights on your writing process can help you establish an emotional connection with your readers. A connection that you can use to build a loyal base of fans who will stick by you and your books for years to come.
Take Advantage of Influencers:
Wouldn't it be nice to have someone with a huge following help spread the word about you? Someone who already has a dedicated fan base and can ensure your content gets seen? That's the essence of influencer marketing.
Influencer marketing is a social media strategy that involves tapping into existing relationships between an influencer and their audience. For instance, let's say you're releasing a fantasy audiobook. You could reach out to an influencer well-known among fantasy fans and ask them to review your audiobook on their page. This could lead to a spike in engagement. Or their excitement about your new release, driving more traffic and sales your way.
Dig into your niche and find influencers who match your audiobook's genre or are targeting the same demographic as you, and see how you can partner up.
Influencer Marketing Audiobook Examples:
Just look at how NYT best-selling author Daniel Kraus collaborated with horror bookstagrammer Sadie Hartmann – better known as @Mother.Horror on Instagram – to promote his book Whitefall.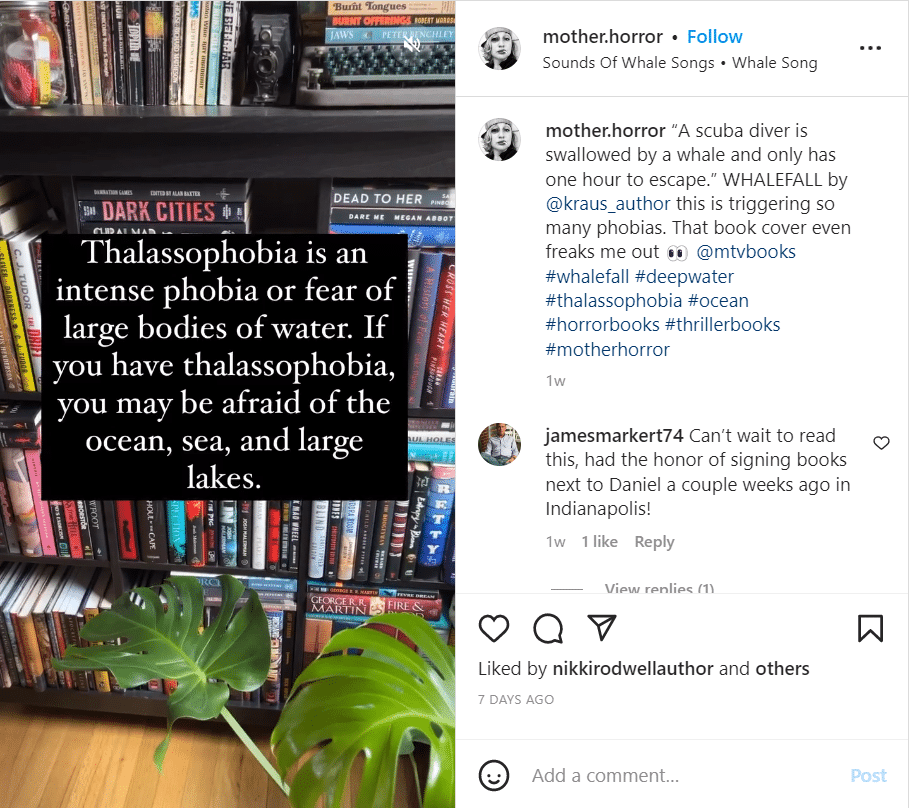 Hillary Raymer also used influencer marketing campaigns to spread the word about her book, Throne of Dreams. Her approach was inventive. She partnered with @darkfaeriestales_ to host a giveaway that offered a chance to win copies of her upcoming book.
Then, if things go well, you can invite them to become brand ambassadors. Brand ambassador collaborations work the same way as influencer collaborations. The difference is that ambassadors promote you throughout the long term.
In this specific case, that might look like an ambassador marketing audiobooks at different points throughout the year. Or maybe you prepare them for when you have new material to promote.
Influencer marketing has grown significantly, from a market of $1.7 billion in 2016 to an astounding $16.4 billion in 2022. And if you're still not harnessing this highly potent marketing tool to help you skyrocket your audiobook sales, then you're missing out on a massive opportunity.
Employ Social Media Automation:
The social media marketing toolbox keeps getting more intelligent and accessible. But no tool has more profoundly impacted the lives of social media novices than workflow automation. From auto-posting to pre-scheduling content to setting up social media monitoring, you can get a lot done with automation tools.
You don't have to worry about manually posting your content every day or missing out on engaging with your followers at the right time. Just curate your messages, set the schedule, and let automation take over. That way, all your attention goes to researching topics and crafting strategies that bring you closer to hitting your goals.
And you don't even have to be a tech whiz to pull it all off. Most automation tools come with convenient user interfaces, no-code setup, and always-available customer service should you run into any problems.
All you have to do is research the different automation tools on the market, decide which one best suits you, and then take it from there. It might seem intimidating initially but once you get the hang of it, you'll be surprised. This method is efficient and cost-effective.
Share your Audiobook's Accolades:
If your audiobook has received any awards, glowing reviews, or even been featured in a list of the best audiobooks available, trumpet your accomplishments. Share your good news on social media with a celebratory post and include the relevant links and images. Not only will it give your audiobook more exposure, but it'll also serve as a reminder to potential listeners about why they should pick up your audiobook.
When Mary Beth Keane's novel Ask Again, Yes was named the Best Audiobook of 2019 by Google Play, she wisely shared the news. She noted on her Facebook page (along with a link), the accolade and a note that her book was on sale for the holidays.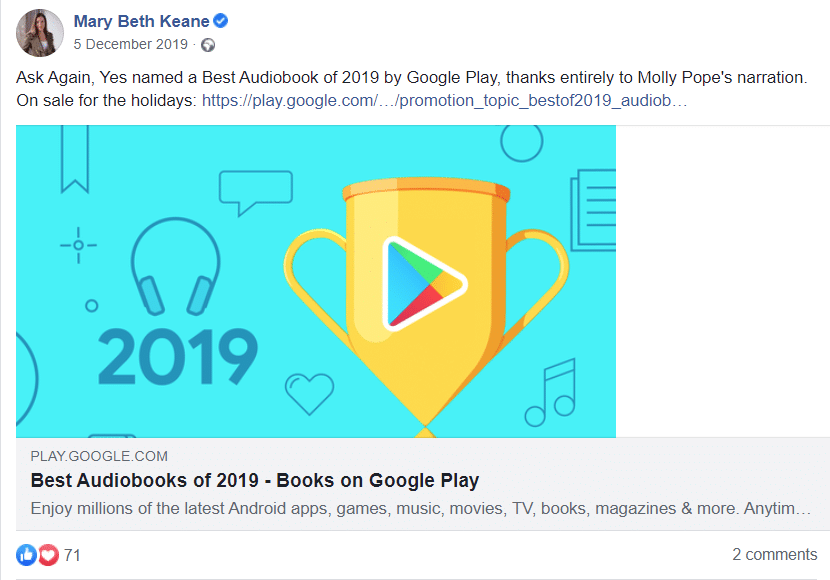 Helen Hoang also took advantage of the recognition her audiobook The Bride Test received when it qualified as a Romance Finalist at the 2020 Audie Awards. She shared the news on her Facebook page, giving a shout-out to the narrator.
Realize That Social Media is a Long Game:
You're following the right people. You've got a great content strategy in place. Your automation tools are humming along just fine. The needle of your follower count just doesn't move. What went wrong?
The truth is, social media isn't a "get-rich-quick" scheme. You won't see concrete results overnight — or even in a week or a month. The path to building a meaningful social media presence is long. Building means a tough slog aimed at making meaningful connections with your followers. And that takes time, consistency, and dedication.
If your follower count isn't growing at the rate you'd like, embrace it. Remind yourself that you're in this for the long haul. It's okay if you only have a few followers at the start. It's better to cultivate a small group who actively engage with your content than to have big numbers and crickets.
Every meaningful post, comment, and interaction is a step closer to growing your network, so keep going and don't give up!
Unlock Your Audiobook's Marketing with Social Media
The rise of the digital age, championed by social media platforms, has ushered in a new era of marketing audiobooks. Today, the fate of your audiobook is no longer in the hands of a few select industry players. Now, authors and publishers can take control of their destinies. By using social media's power to market your audiobook, you can reach out to potential listeners directly.
By leveraging the right strategies and tactics, you can unlock a world of new listeners that may have otherwise never heard of your audiobook. So what are you waiting for? Start building your social media presence and give your audiobook the reach it deserves.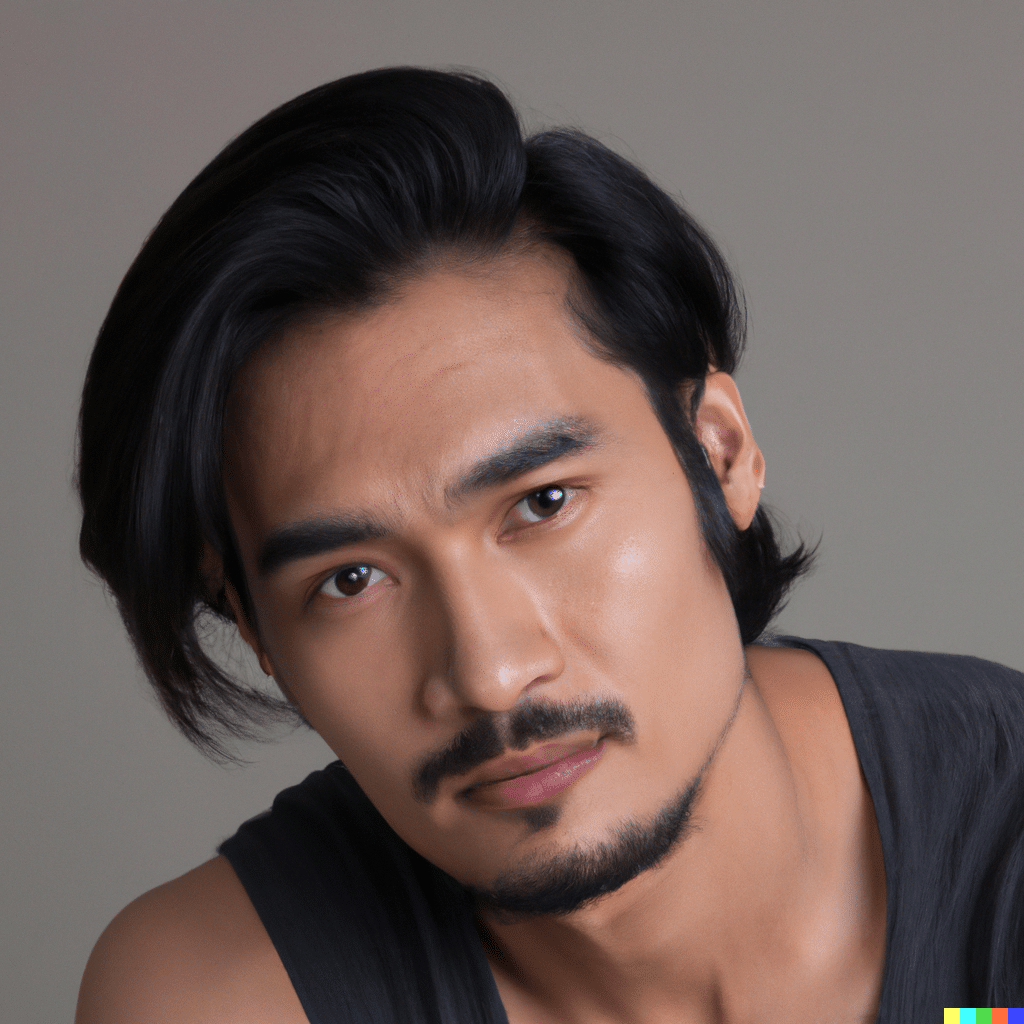 As a demand-gen specialist and copywriter, Yoshiro Kichiro is dedicated to helping businesses grow and thrive. With a deep understanding of persuasive language and data-driven decision-making, Yoshiro has developed successful campaigns for clients across a range of industries. In his free time, he enjoys traveling the world and experiencing new cultures.