Creating a graphic or artwork to promote each episode of your podcast can be an effective marketing tool on social media. However, if you don't have the best design skills, creating these images can feel like a daunting task. In this post, we will cover how to create your podcast episode promo graphic, discuss the most important elements of a well-designed promotional image, and provide a few samples for you to work from.
Then, as a bonus, if you want to take it to the next level, we will show you how to turn artwork into an animated video preview like this.
Everything You Need to Create a Podcast Promo Graphic for Each of Your Episodes
Getting Started
Choose the Right Design Tool
You are going to need a tool for creating that fresh design.
There are a lot of image editing software programs out there. Some are desktop applications (like Photoshop or Affinity Designer), others are web-based, and there are others available for your phone.
"I don't want to download any software, and I'm cheap." We get it!
Allow us to narrow the criteria of our search. Fortunately, there are quite a few (free) web-based options that also have their own mobile apps.
Canva is a simple, powerful, and free tool that offers drag-and-drop features and professional layouts to design consistently stunning graphics. Seriously, folks, it doesn't get much easier than Canva. Everything you need to do to create a podcast promo graphic should be included in the free tier.
To browse some other options, check out: 9 Canva Alternatives with More Easy to Use Options. That should give you everything you need to select a design/image editing tool.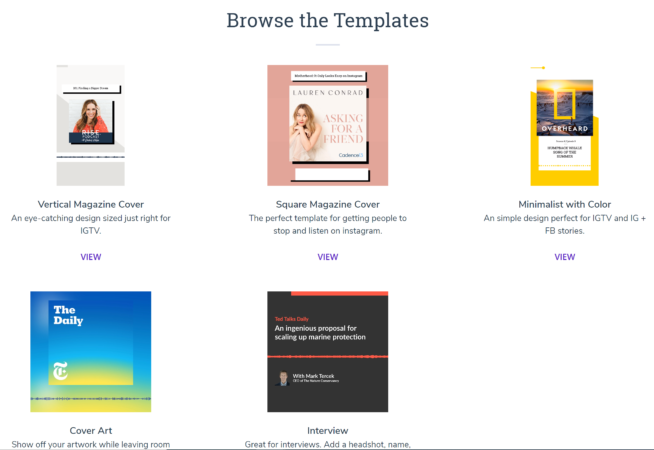 Start With a Wavve Template
If you're reading this post, chances are you are not a professional designer. Let's make it easy on ourselves and skip the design and creativity workshop. Use one of Canva's pre-made templates and customize to it your needs, or start with a pre-designed Wavve template.
Before that, let's discuss the different elements that make these podcast episode images successful.
Choose an Image Size
Depending on where you will be posting the image, you will want to choose the proper dimensions for your image. Here are a few suggestions:
Facebook

: 1280 x 720

Twitter

: 1280 x 720,

Instagram

: 1080 x 1080

Instagram Stories

: 720 x 1280
What Makes a Great Podcast Episode Image
Use an Image That Reflects the Main Point
Everything that you do around marketing your podcast should be centered around these two questions: (1) Why should someone listen? and (2) How do they listen?
The first step in building your episode promo graphic is highlighting the why.
What is the main point of the episode? Is it a guest that you interviewed? Is it a specific topic or current event? Is it you? Find an image that best represents that topic
If you featured a guest on the episode, adding a headshot of the individual is a great first step. Not only does this help familiarize viewers with the guest, but the interviewee will be more apt to help with social sharing if they are the focal point of the image.
If the podcast is about a specific topic or current event, there are plenty of places to find unlicensed photos that relate to the podcast discussion. Here are a few resources for great free stock photos that are free for commercial use with no attribution required:
Also see: Free Stock Photo Websites – Top 5 Best Sites
Include the Podcast Logo & Episode Title
I know… this seems simple, right? But we see this step missed again and again.
It is great to have a logo for your podcast but it's not required. Still you want to have some sort of branding so that people can easily search for your podcast. This can be as simple as choosing a custom font and adding it on top of the image. If you are using a tool like Canva, you can also easily add a background behind the text so it still readable over top of the image.
See the example below that includes a gray background around the podcast title: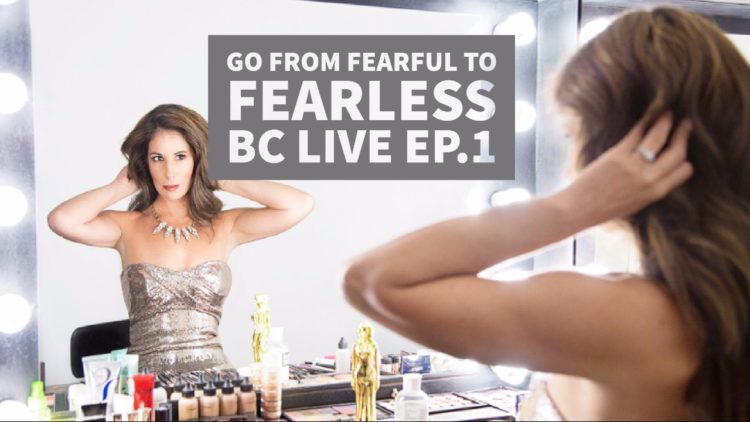 Add a Quote
Find the most interesting discussion points within your episode to pull noteworthy quotes from it. If you hosted a guest, you definitely want to use a direct quote from them.
Adding a quote to your podcast episode image helps potential listeners not only understand what is being discussed, but will entice people to listen to the full episode.
Remember, we want to remind people why they should listen to your show. If your goal is to educate, include a quote that highlights a little-known fact about your topic. If your goal is to inspire, include an inspirational quote from you or your guest.
Take a look at an example from one our favorite podcasts that uses Wavve to turn their promo images into short preview videos:
Include Instructions on Where to Listen
At this point, we may be running out of real estate within your episode artwork so you may need to get creative with adding any more text. What you add here is really dependent on where you prefer to drive potential listeners to hear your show. Obviously, Apple Music and Spotify are the most popular destinations for podcast listening, but you may wish to drive listeners to your website or another popular podcast app.
A simple way to include this in your podcast graphic is to add podcast app images. For your convenience, the most recent versions of many podcast app icons can be found in this zip file download via Google Drive:
(If you want to stay within the good graces of Apple, be sure to reference their Podcast Identity Guidelines.)
Pro Tip: On Instagram, use a custom Wavve Link in your bio so that it is easy to direct listeners to their podcasting platform of choice. Include the text "Link in Bio" to refer your followers to the link.
Start to Promote
Download & Share
Your photo/graphic design software should make it easy to download your image. Simply plug it into social media with the link to your episode and encourage sharing/engagement!
Go Next Level
Want to combine that fancy podcast episode image with an audio clip and create a promo video? Well, you are in the right place! Just sign up for Wavve here and get started.
If you are a podcaster and want to utilize Wavve to create short episode previews, you can visit our website to create a free account.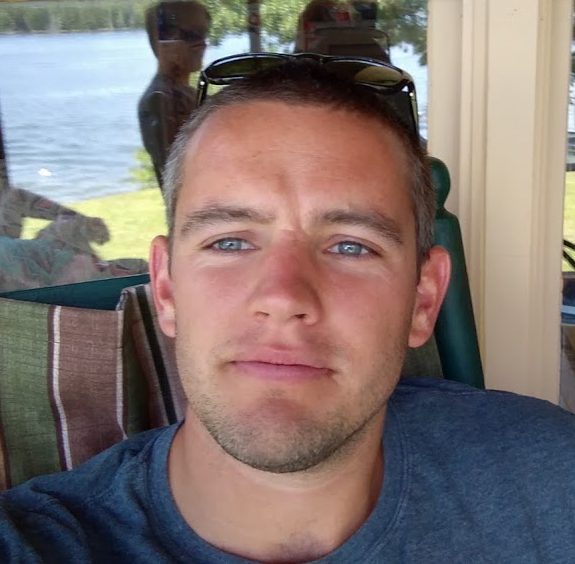 I'm the Founder of Wavve. I love building tools to help content creators better share their message on social media.