The one podcast link you'll ever need…
Promoting your podcast with more than one link feels time-consuming. It seems like everybody's listening on different platforms, and each time you release a new episode you have to ensure that people know how to access the latest episode on their platform of choice. If you're managing a podcast and recording episodes regularly, you probably have enough on your plate. You need to make promoting your podcast as easy as possible.
What if you had one single link to send people to Apple Podcasts, Google Podcasts, and Spotify?
Having just one podcast link is the best solution for a couple of reasons. First, it makes your life easier because you'll always share the same link every time you promote your podcast. Second, it simplifies things for your listeners, too. When you create a single link for your podcast, you're also providing a one-stop shop for your audience. They'll be able to find your podcast, listen to episodes, and subscribe all in one place, making them more likely to become a long-term member of your podcast community.
But how do you generate this single podcast link? Well, you could build a custom website with links and a video player, but we have a better idea… it's called Wavve Link.
Wavve Link provides your listeners with one link that directs them to a mini-website for your podcast.
On this mini-website, visitors will be able to listen to your podcast episodes on their preferred platform (Apple Podcast, Spotify, Google Podcasts, Stitcher, even YouTube!), subscribe to your podcast, and follow you on your social media channels. It also syncs your latest episode automatically so that your newest material is always available and ready to stream. You can check out a great example of Wavve Link in action here.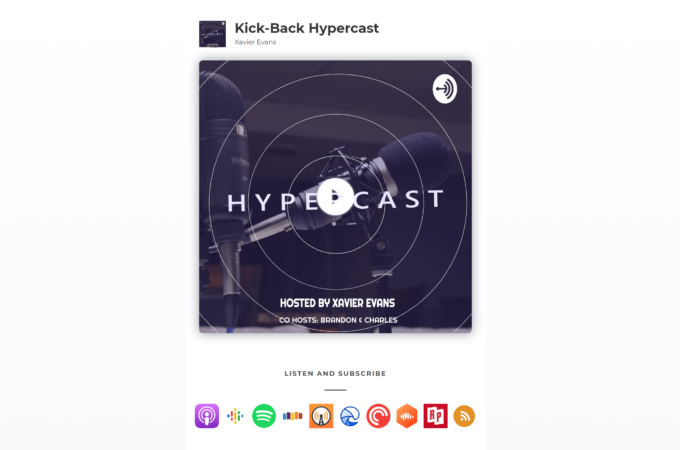 Want to start your own Wavve Link? It's quick to set up and free!
Step 1: Sign in to your Wavve account or create a new one for free.
Step 2: Select the "Wavve Links" option from the left navigation menu.
Step 3: Follow the prompts to set up your custom short link.
Step 4: Connect your podcast feed by pasting in the URL to your RSS feed.
Step 5: Choose which podcast platforms your fans can use to catch up on your latest episodes.
Step 6: Copy your custom Wavve Link and share it every time your promote your podcast across social media.
Ready to claim your free Wavve Link?
Click here to get started!