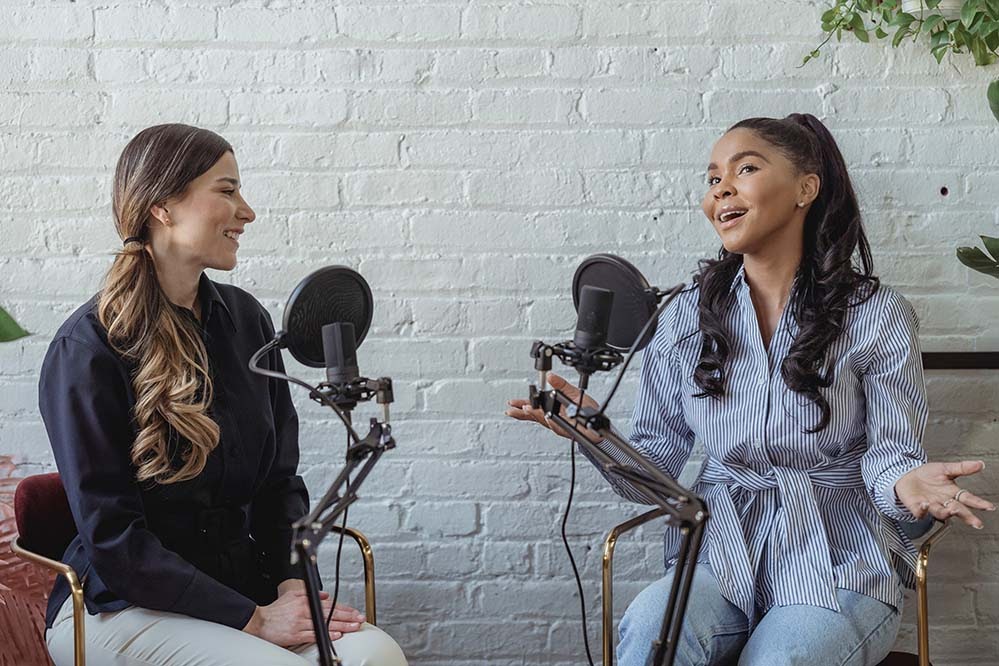 We've already discussed an extensive list of dynamic podcasting tools to help you create and promote your show. But, as with all creative projects, there's a ton of work that goes into the show before and after an episode goes live.
It's easy to overlook some areas where you will need to decide on a tool. You have to find new guests, send out invites, work around schedules, decide on an interviewing tool, and so much more. It can seem like a lot, we know, but we've got you covered!
We're going to take you through some handy behind-the-scenes (BTS) tools that will transform how you manage your show, especially if you create audio content with others.
Pick Your Go-To Tool in Each of These Areas
1. Branding
Even though podcasts are primarily an auditory experience, the look of your show is just as important as the sound. The visual aspect of your show is what attracts new listeners who look first and listen later, which is why you need to prioritize branding. You should consider aspects such as the:
Episode cover art
Show cover art
Logo
Font choices
Brand color palette
Image choices
Thinking like a graphic designer, how do you best make these choices for your podcast? Lucky for you, if you don't have the budget to hire professional graphic designers, there are still options. You can find a lower budget option using a service like Design Pickle, Upwork, or Fiverr, or you can turn to do-it-yourself (DIY) design tools like Canva or Adobe Photoshop, which feature free trials.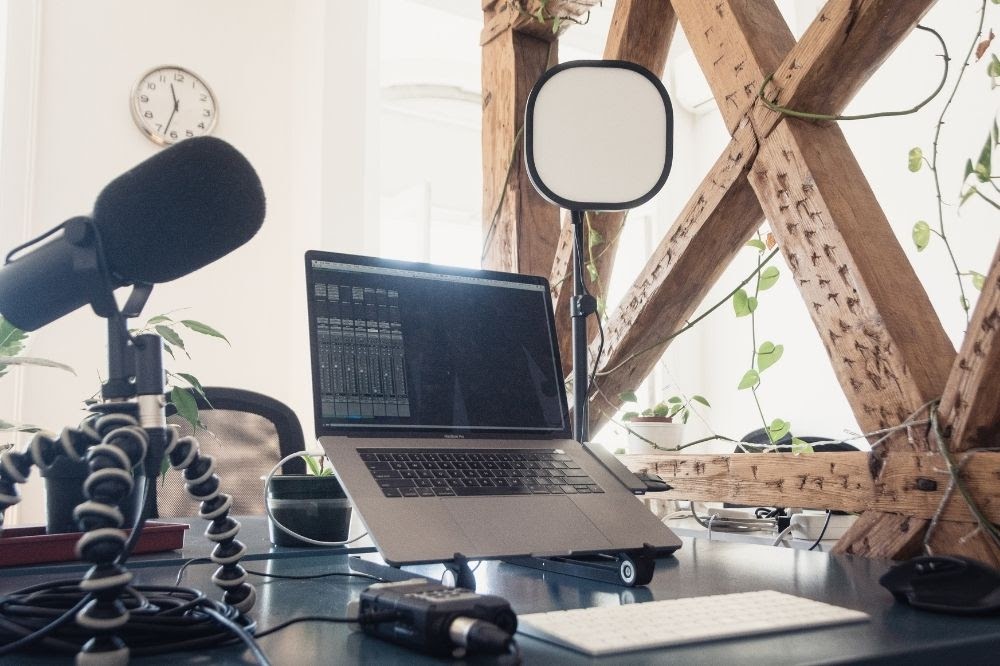 2. File Sharing
There are many occasions where you may have to send or receive files (images, videos, audio files). You may need to share files with your production team or send clips to your podcast guests for approval. Either way, you'll need instant and accessible file-sharing podcasting tools.
With Dropbox or Google Drive, you have a cloud storage tool where you can keep files and other show documents. You can use the cloud as a collaboration tool by sharing links to files for others to view.
WeTransfer, on the other hand, allows you to create a custom file-sharing link that expires after a set period. Link receivers can download files from the URL and view them on their devices. It also tells you when they download the file and can handle very large files, which is helpful.
3. Collaborative Note-Taking
Podcast management is not a one-person affair. It takes a team of creatives, technical crew, and others, to get the show to where it needs to be. To enhance communication, and ensure task completion, you need a podcasting tool dedicated to collaboration. Specifically, you need tools to help you manage the collaborative, document-sharing aspect of your show.
There are many tools you may already use for sharing documents collaboratively, but Notion and Google Docs are popular choices that enable note-taking, writing, brainstorming, task allocation, approvals, and more.
You can use these tools to take notes during team meetings to share with your team or during an interview for your reference. They can also be used to create documents to draft show scripts or questions that you can send to guests beforehand. If you're working with a team, you can even assign tasks to specific team members and track their completion.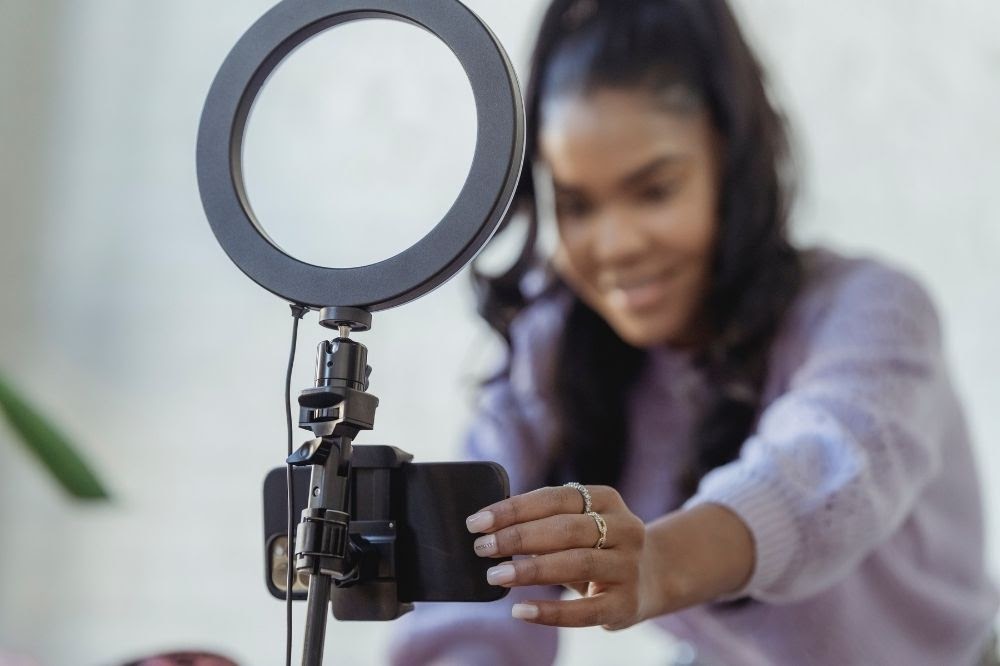 4. Scheduling
Although it's possible to work asynchronously with collaborators on cloud platforms like Google Docs, it's difficult to avoid meetings entirely in the podcast world. You have to meet with the production team, guests, legal, and other contributors to your show. Quickly scheduling meetings that work for everyone on your team saves time.
It sounds easy enough but scheduling can become a hassle when done manually. Back-and-forth communication, trying to keep track of everyone's availability, and even trying to coordinate time zones!
Calendly and Book Like A Boss are fantastic scheduling platforms that function on an open-scheduling concept. Guests can look at your calendar and pick a time that suits them with no back-and-forth needed. For team scheduling, you can integrate your team's calendars and the system will book a time that suits everybody's availability.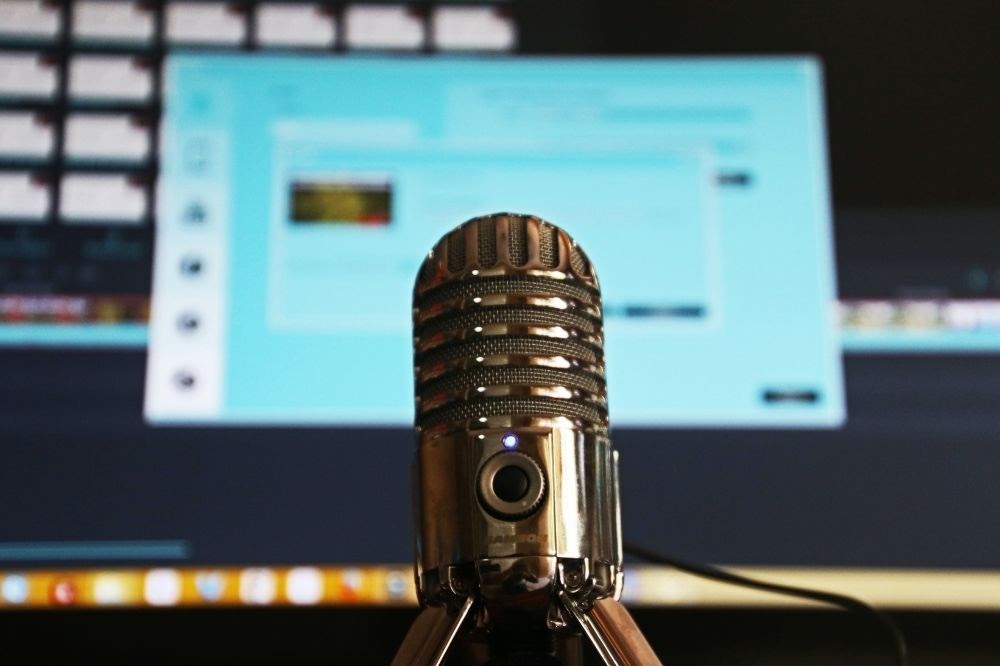 You can even integrate these podcasting tools with your email or calendar apps like Google Suite or Google Calendar. That way, it syncs all your organizational data for a centralized and updated scheduling experience.
5. Virtual Meeting
To host your newly scheduled meetings and/or podcast interviews, there is a wide range of virtual conferencing platforms available. Some of the best platforms that offer high-quality, separately recorded audio and video tracks include:
6. Podcast Analytics Tracking
The only way to monitor your podcast's success and effectively implement strategies is to track your show's analytics. Stats and analytics can tell you how each episode performs and give you insights into audience listening patterns.
Wavve Link syncs with your podcast's RSS feed, enabling your fans to listen to your podcast from the link. You can then track listening sessions, number of listens, page views, and distinct users. These stats give important insight into listens and audience engagement with your content. Your podcast hosting platform can also typically give you analytics to track.
The key point here is to consider what metrics are important to you and choose a tool that will allow you to track them.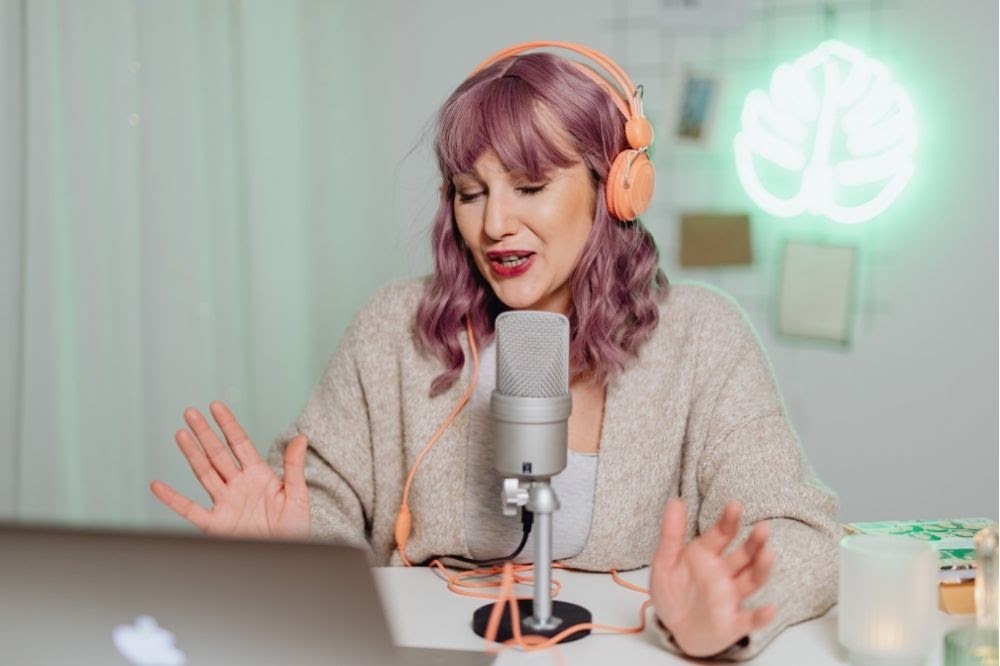 You can use this to guide you on the type of content you create moving forward and the kind of listeners that content draws to your show.
7. Transcription
The amazing thing about podcasting is that one interview or episode can become an endless source of content.
Transcription presents another way to capitalize on podcast content. For one, transcribing your audio and adding the text as captions to social media videos opens your podcast up to audience members who have auditory challenges.
Other uses for transcription include blog, newsletter, and show notes content creation. Build in some edit time after you transcribe your audio to edit mistakes in the text, add proper punctuation, format it correctly, and add links.
Duplikit transcribes well for those looking for accuracy, speed, and ease of use. Descript does a good job for power users looking for more features and professional grade tools. Rev.com can even save more time by leveraging humans to give a more accurate transcription from the start.
Wavve's transcription and captioning feature helps you generate text for both your marketing videos and for other creative uses.
Conclusion
Managing your own podcast is a complex task, and it's easy to overlook some of these areas when you are first getting started. Planning your podcast should take into consideration a tool in each of these seven areas. They will empower you to create better content faster, as well as create more targeted content in an organized way. Remember, sustaining your podcast for the long term is the harder thing to do, so a little planning to make it easier and fun makes all the difference.
Excellent organization using these BTS podcasting tools will show to your guests, your team, and the world that you are here to stay. We hope our list provides you some areas to consider as you plan your podcast this year. Together with our creation and marketing technology tools list, you are well on your way to having the best show possible.
I'm the CEO of Wavve. I love encouraging creators and entrepreneurs to share their stories and lead with purpose.