Here's the question: how do you make a profit from podcasting?
This is one of the first questions new podcasters ask, before, during, and after they record their first episode. Luckily, there are several tactics you can use to make money from your content.
Ready to grow your podcast from a side hustle into a thriving business? If so, take a look at the key techniques you can use to generate revenue from your show. With the right approach, your podcast can become a flourishing business in no time.
7 Ways to Make a Profit From Your Podcast
Tip #1: Sponsored Ads and Episodes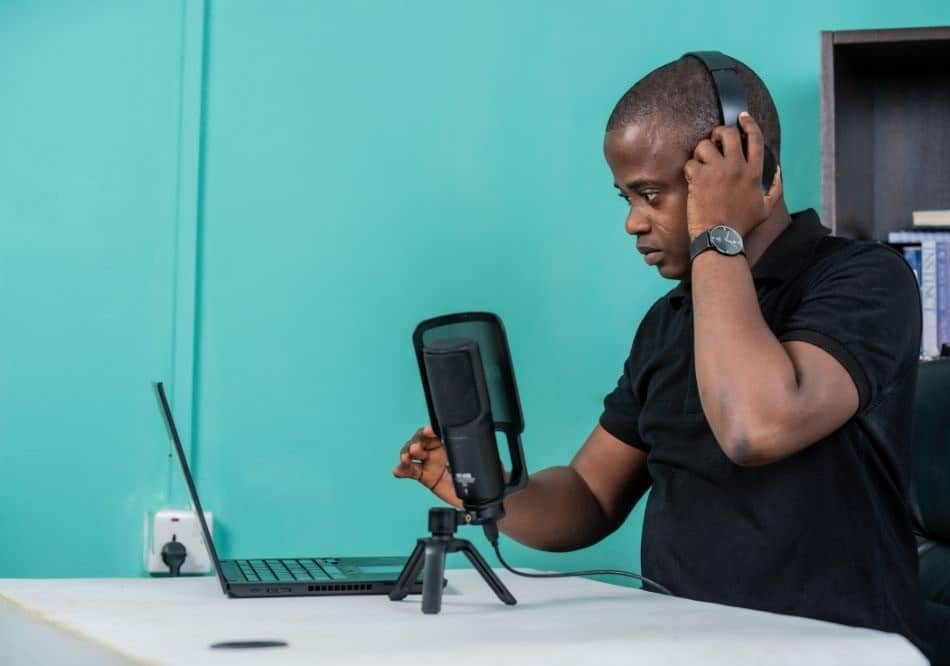 When figuring out how to profit from a podcast, the popular solution is to run sponsored ads or episodes. Let's break it down.
This is when a podcaster partners with a brand and runs a short segment on their podcast promoting the company.
It can either take the form of a short ad in the podcast, or the podcaster can say something along the lines of, "Today's episode is sponsored by…" and naturally describe the sponsor in their own words.
The brand will generally provide a short script and pay the podcaster to read it out. While this is a great way to make money with your podcast, it generally requires a large listenership to generate profit out of it. This is because the sponsor is typically looking for more exposure and awareness.
You'll need a good understanding of your listener data and demographics so you can show brands who exactly makes up your audience. Companies want to know whether your podcast is the right fit to invest in to reach their best prospects.
That being said, this is not a hard fast rule. You could have a podcast just for a small niche of highly paid executives that certain companies want to get in front of and are willing to partner with you to make the podcast interviews happen.
These companies get value out of the association with the podcast and the awareness it brings to their high value prospects. So don't think the size of your podcast audience matters here as a hard rule.
Tip #2: Affiliate Marketing in Your Podcast
This approach is similar to running sponsored ads on your podcast, except that affiliate marketing is more accessible for smaller podcast creators.
Affiliate marketing is the term used when you sign up for a brand's affiliate program. They furnish you with a special affiliate tracking link or promo code you can use when you promote the company.
Every time somebody uses your code, you earn a commission from the sale. This approach doesn't pay you directly for promoting the brand – you only earn income when your listeners purchase.
Choosing the right brands to promote is important, as they need to appeal to your target audience. Some affiliate programs can be quite lucrative as long as you find products or brands that are the right fit.
The good news is that many affiliate programs are easy to join. Just search for brands within your niche and see if they have an affiliate program on their website that you can join.
Over time, these affiliate commissions can add up and pay for your podcast .
Tip #3: Ask For Donations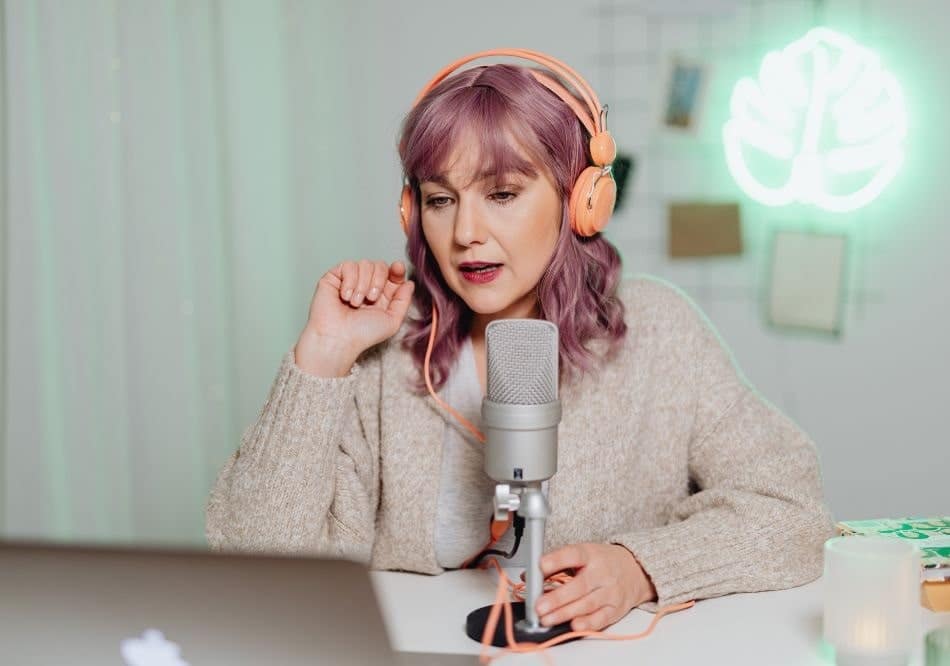 Asking for donations is one of the most straightforward ways to profit from a podcast.
If you have a dedicated fanbase, you can ask them to support your content by simply donating. You can use platforms like Patreon or PayPal to do this.
Tip #4: Paid Membership Offers to Make a Profit From a Podcast
You can charge for a special membership offer instead if you aren't comfortable with the idea of asking for donations. If you have a dedicated listenership, this is an effective way to give them extra value for subscribing to your content.
You can offer paid members exclusive content and interviews, ad-free content, access to special merch, face-to-face meetups, or anything else you deem relevant to your audience.
Many content creators offer different subscription tiers, where listeners can access premium resources with higher-level subscriptions.
Tip #5: Sell Merchandise and Your Own Products
Thinking of selling merch? Consider working with other brands as a collaboration. On the other hand, you can develop your own podcast brand and make money independently to profit from it. A great way to do this is to sell your own products.
First, set up an online store and promote it in your podcast. Then next is to add a link to your products in your podcast description. As long as your products appeal to your audience, you can make some decent money this way.
Many podcasters utilize print-on-demand services and dropshipping eCommerce models, so they don't have to hold stock. This makes it easy to start selling merch without investing in your online store.
There are plenty of merch options available to you. You can sell classics like branded t-shirts, socks, tote bags, or mugs. Another alternative you can offer is more unique products that relate to your podcast topic, like cooking equipment, for instance.
In short, always keep your audience and their interests in mind when creating products.
Tip #6: Sell a Course or Coaching Session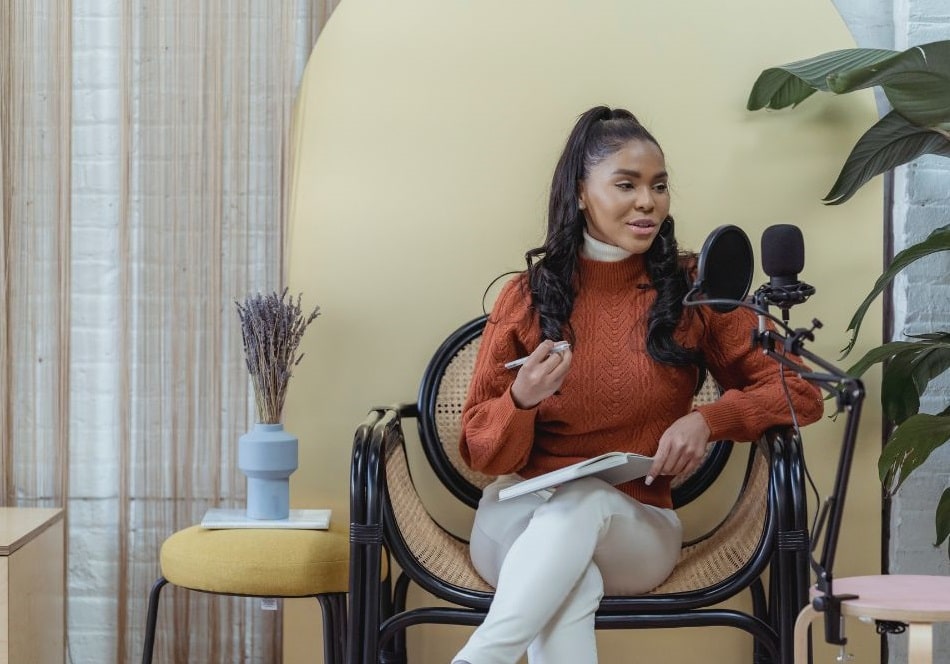 If you offer expert content in your podcast, your audience might want to learn more from you about a specific topic. To make the most out of this, you can sell an online course or a masterclass.
Once you have created them, selling online courses can help you achieve a relatively passive income. Regularly promote the course in your podcast so people can sign up and access it through your website.
You can also offer specialized consulting or coaching services, where you meet one-on-one with a client to help them with a more customized solution. These services are more exclusive and therefore you can charge more for them. Just be sure you can fulfill these services and still find time to podcast.
Tip #7: Join an Advertising Network to Make a Profit From a Podcast
Advertising networks can connect podcasters with brands looking to promote content. This takes all the effort out of connecting with the right brand, making it much easier to find sponsorship deals and paid promotions.
The effectiveness of this tip highly depends on your topic, your audience, your branding, and how knowledgeable you are about your listeners.
Conclusion
If you're looking to make a profit from your podcast, there are many different avenues you can take. Most podcasters use a combination of these tactics to create multiple revenue streams from their podcast.
Whatever approach you take, the most important thing to remember is that you understand your audience and provide value to them when promoting products, ads, or offerings in your episodes.
The better you can align your money-making idea with your audience's interests, the more profitable your podcast will be.
I'm the CEO of Wavve. I love encouraging creators and entrepreneurs to share their stories and lead with purpose.