Brands across the world have used audio marketing since the dawn of radio. Audio helps companies draw attention to their brand, engage with customers, and improve customer experience.
As the 2020s continue to rage on, the demand for audio content continues to grow. Your brand can gain all the benefits of audio marketing provided that you do it right.
Let's take an in-depth look at audio marketing, its advantages, and examples of audio marketing that will surely inspire you.
What Is Audio Marketing?
Audio marketing is any marketing endeavor that puts out audio content as opposed to written, image, or video content. Brands can use audio marketing to extend their messaging beyond billboards and screens. This marketing is meant to be an audio experience that will undeniably stick with consumers.
The main types of audio marketing are the following:
Audio Marketing Type #1: Podcasts
Brand or branded podcasts are some of the newest but most successful forms of audio marketing. Companies sponsor podcast episodes on popular podcasts, run ads on them, or get some of their team members to speak on these podcasts. Many times, they create their own podcasts.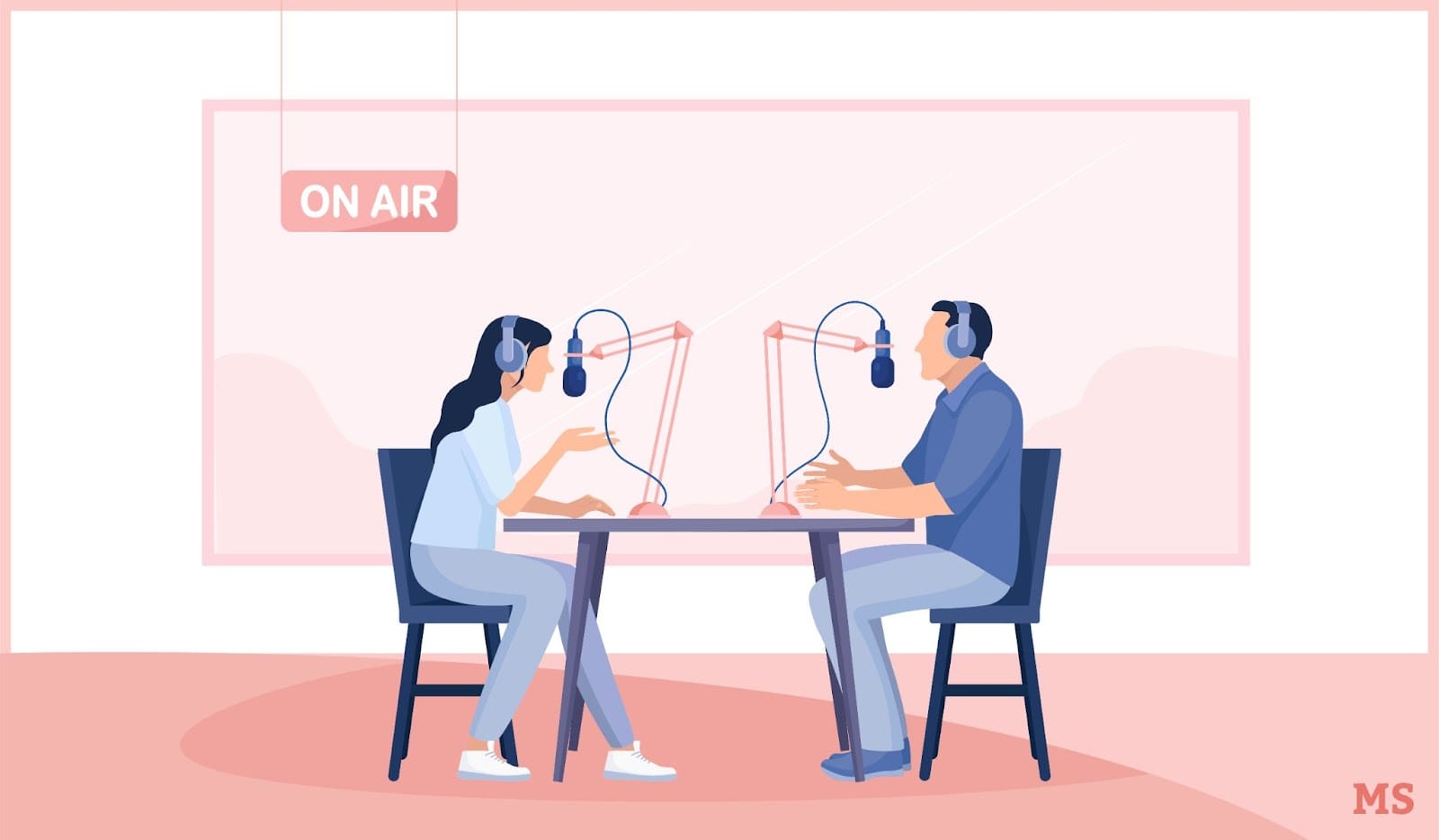 Audio Marketing Type #2: Audiobooks Or Audio Articles
Similar to podcasts, brands can put out audiobooks or add an audio feature to their articles online. It is one of the simpler forms of audio marketing, but it's still effective.
Audio Marketing Type #3: Branded Playlists
Branding playlists on music streaming platforms also gets your brand recognized. A popular brand that does this is Nike, with its running playlists for every occasion available on Spotify.
Audio Marketing Type #4: Audiograms
An audiogram combines a sound bite, an audio clip, and an animation. It's like a transcription or video of a sound as the audio waves are animated onto the screen.
Audiograms are teasers of upcoming podcasts, songs, or music. They can also be used to tease or announce upcoming products. Wavve, for example, helps creators make this kind of audio marketing.
Audio Marketing Type #5: Voice Search
Voice search helps users find an app or website using voice commands in particular. Not to mention that it makes the app more user-friendly and interactive. Google Home is a great example of voice search audio marketing on devices in the home or at work.
Audio Marketing Type #6: Signature Sound Or Song
Jingles, sound effects, and theme songs are fun and catchy ways to market your brand.
Think of the theme of your favorite TV show. Shows like Modern Family, Game of Thrones, Friends, and New Girl perfected the use of signature sounds or songs to advertise. You can't hear those sounds or songs without associating them with the show.
What Types of Businesses Benefit from Audio Marketing?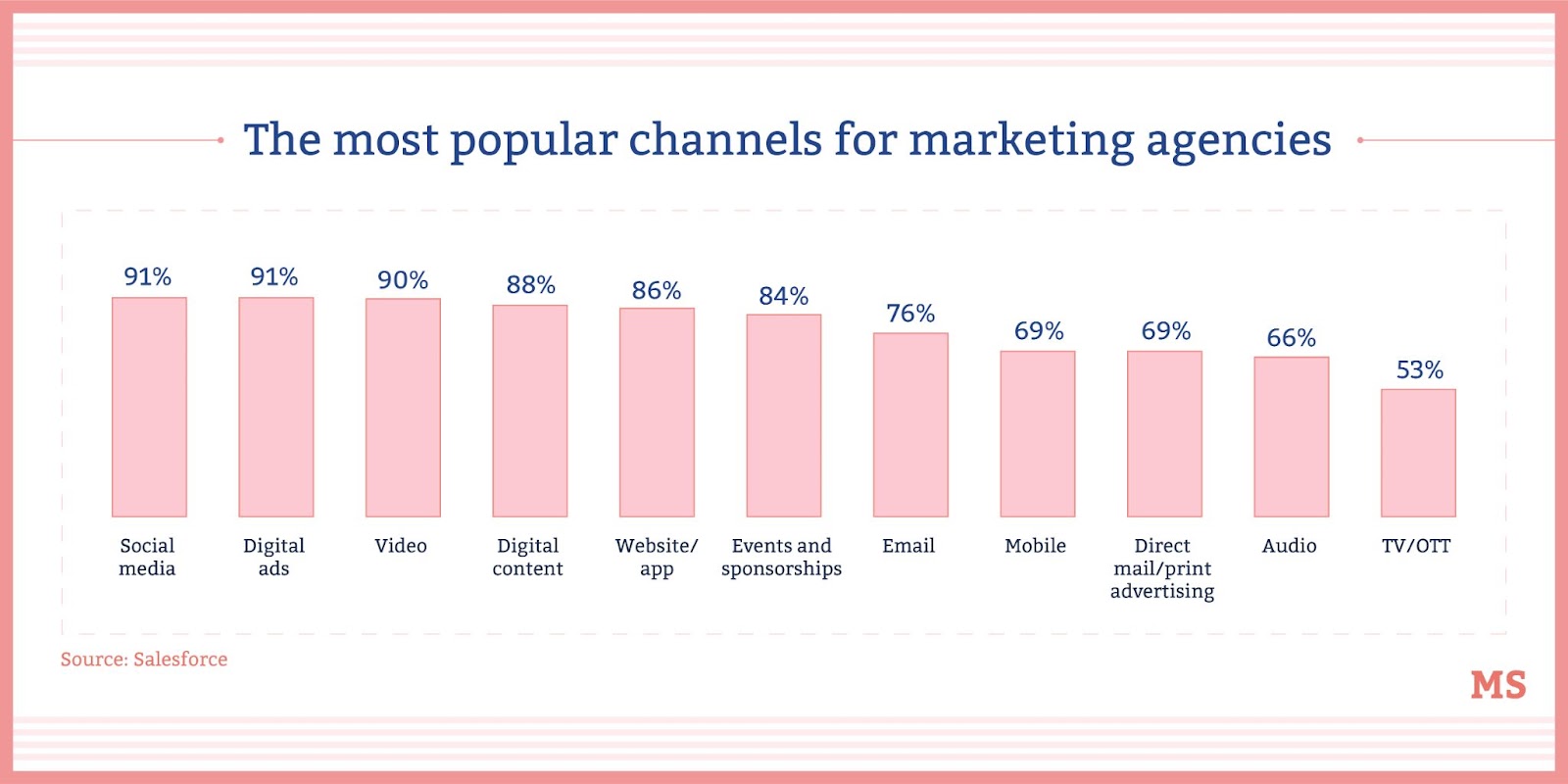 Many types of businesses can benefit from audio marketing. Fitness brands, movie streaming platforms, media companies, shopping conglomerates, toy manufacturers, and many others benefit from using audio advertising.
Since audio marketing is no longer limited to a 30-second radio ad, there is a lot of room for various businesses. With the right content marketer and audio marketing strategies, you can reach your target audience through various audio ad channels.
It does not have to be a podcast – it can be a playlist or a branded sonic logo. As long as you are creative, research your competition, and think outside the box, you can benefit from audio marketing.
Advantages Of Audio Marketing
Audio marketing is one of the best ways to have an intimate connection with your target audience.
With the use of headphones and earphones, brands can reach their audiences easier with targeted audio campaigns played directly in your customer's ears. It also has better targeting with transcription keywords, so you are likely to find interested customers faster.
With the wide availability of audio marketing formats and forms, you can reach just about anyone. This ubiquity makes it easier for your content marketer to strategize ways to reach your target audience.
The different types of audio marketing coupled with the widespread availability of audio across the globe make it the perfect medium for advertisement and the showcasing of your brand identity.
Audio marketing is more cost-effective than visual marketing for most companies. You do not require much to create an audio ad campaign, so it's a cheaper way to generate leads.
Even producing regular audio content does not take as much money as TV ads. Audio marketing is affordable enough that small brands can benefit from it without putting the business at risk.
9 Examples of Audio Marketing to Use to Inspire Your Efforts
Let's look at some of the most successful audio marketing campaigns and understand why they did so well.
Branded Playlist On Spotify By Gymshark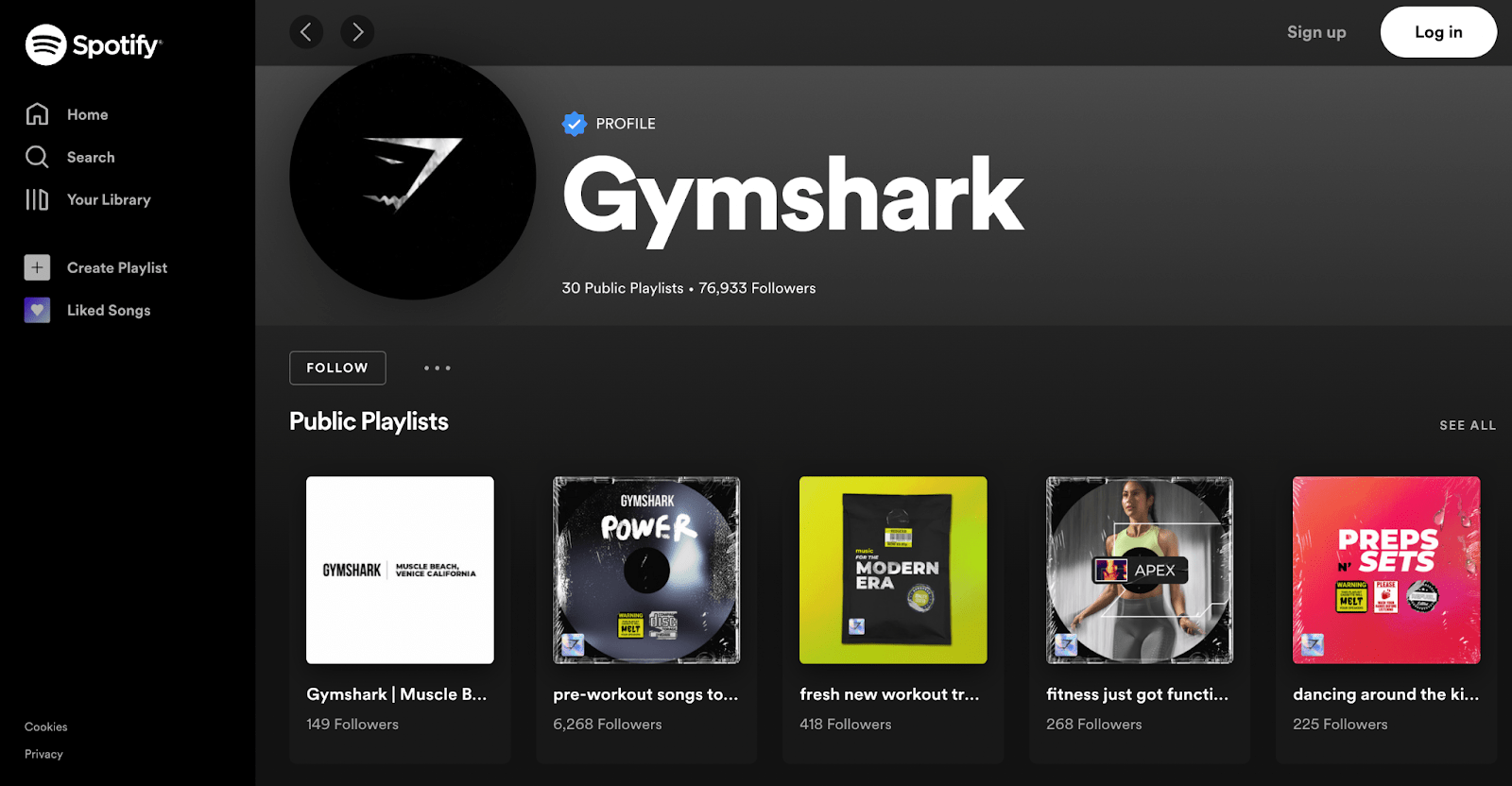 Music streaming apps are one of the best audio content platforms. They have a wide range of listeners, meaning you can find your target audience pretty easily. In this case, Spotify is arguably the best music streaming app in the market currently, and GymShark decided to use that for audio marketing purposes.
Gymshark is a gym clothing brand that understands its target audience. When you work out, you usually try to find a playlist that gets you in the mood. Strict gym-goers are usually on Spotify daily. Knowing these facts, Gymshark decided to create compelling playlists on Spotify.
Various Gymshark athletes have shared their go-to workout songs in a playlist on Spotify. In fact, these playlists are branded by Gymshark. Anyone searching for their favorite Gymshark fitness influencer's gym playlist will find a branded Gymshark playlist.
Additionally, Gymshark has playlists developed by its content marketers.
Gymshark is using the power of influencers and a common activity to advertise itself. Many people use Spotify to search for playlists for different moods.
People who love fitness more often than not have a fitness influencer they trust and follow. In effect, knowing these two facts helped Gymshark run a successful audio marketing campaign on Spotify.
#LIPSTORIES Podcast By Sephora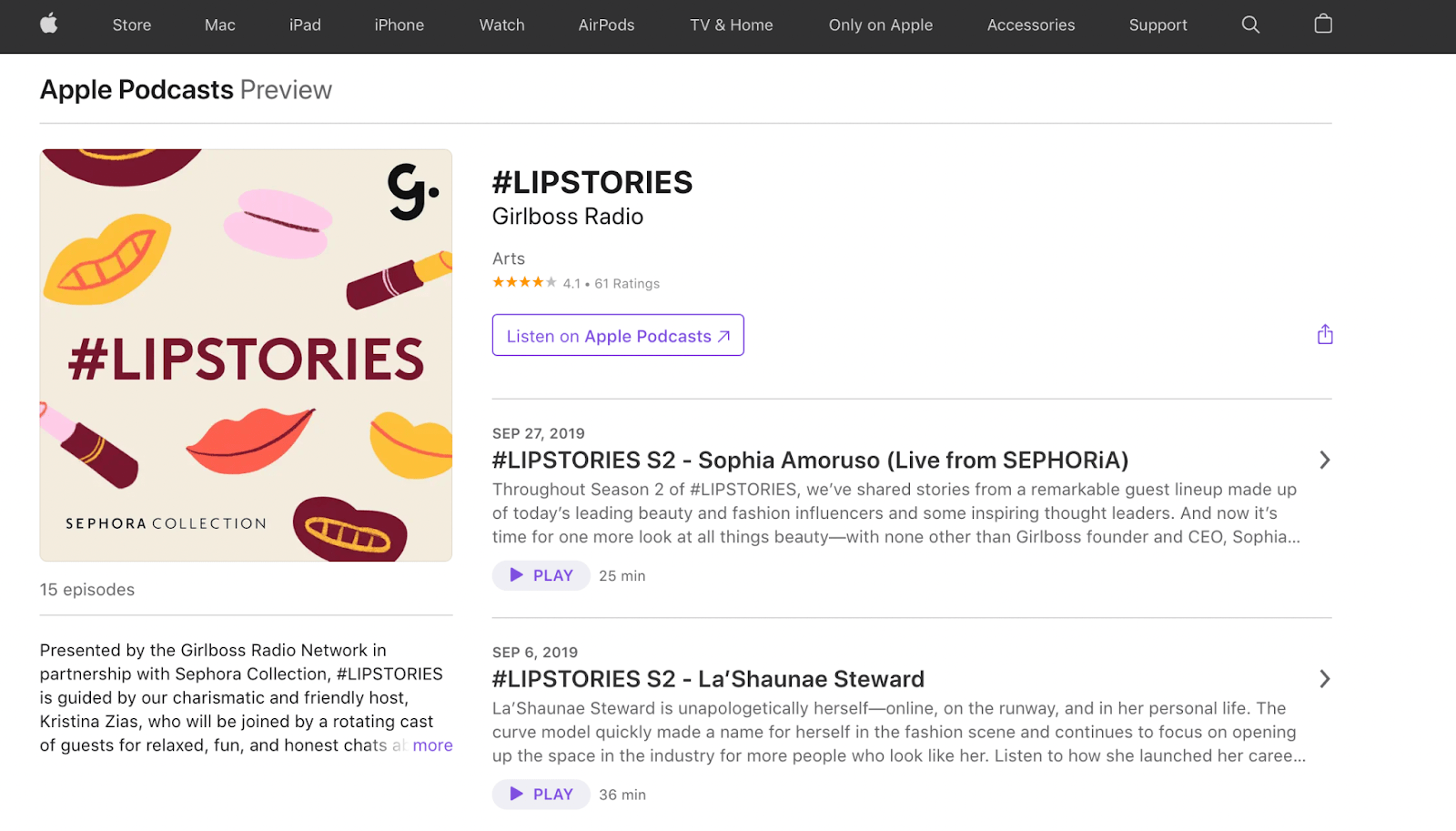 There are millions of podcast listeners around the world. Instead of paying for radio advertising, Sephora decided to capitalize on podcasts. Instead of sponsoring one podcast episode, on a popular podcast, Sephora decided to create its own podcast.
The #LIPSTORIES podcast was created by Girlboss Radio which is a media company that focuses on empowering and uplifting women.
Sephora partnered with them because their target audience is women. The podcast features various guests who recount times in their life they felt beautiful, powerful, and at their best.
#LIPSTORIES has clear and concise messaging in every podcast episode. It encourages women to feel good, do good, and further embrace their power.
It encourages its listeners that the easiest way to do all that is to look your best. Sephora helps women look their best by providing skincare and makeup of all kinds. As a result, this podcast helps reiterate Sephora's message without seeming sales-y despite their audio marketing efforts.
EWRadio Audiograms On Instagram
EWRadio has found the perfect way to keep people interested in radio. With social media taking over, radio can get left behind.
Many people use music streaming apps for their music and podcasts, YouTube for information, and social media for news and gossip. As a result, it feels like radio is becoming obsolete.
However, EWRadio has refused to go gently into the night. By embracing technology, they found the perfect way to advertise their programs.
Audiograms allow you to turn audio content into visual content for social media. These animated videos help capture social media attention visually and introduce new listeners to the audio and radio station.
Instead of spending more money creating videos, EWRadio transforms its audio clips into audiograms they post on its Instagram account. EWRadio uses Audiograms to tease upcoming shows and conversations.
The audience tunes into the radio show or checks the website to hear what comes next.
Lego Play Waves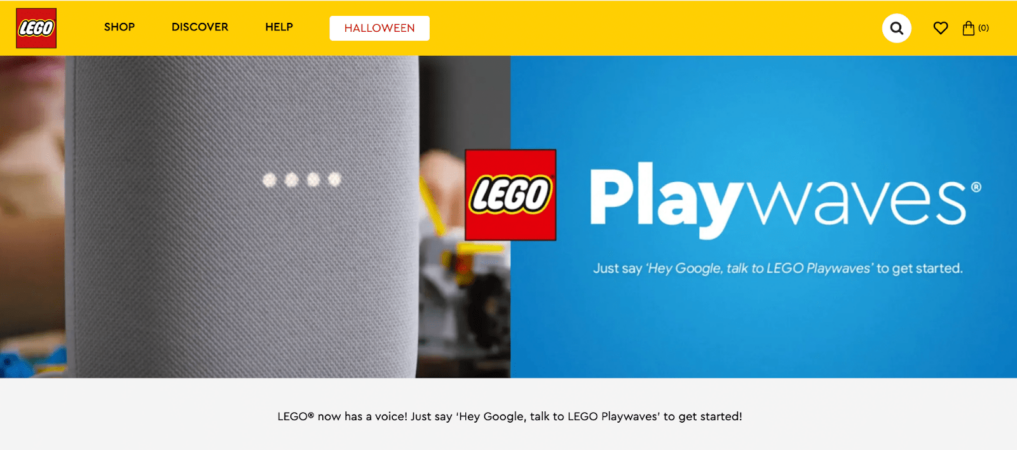 Lego understands its target audience without a doubt. Children need to feel heard. They also need voice interaction. Knowing this, Lego introduced Lego Playwaves, allowing children to talk to Lego.
This voice search feature allows children to use Google Home devices to chat with Lego by asking for Lego Playwaves. The simple voice command lets the child go on exciting adventures, take on fun missions, and interact during play.
The AI voice feature makes Lego building a fun and interactive task. Given these points, it helps the child feel heard, and the conversational tone used by Playwaves makes it feel like they are playing with friends.
McDonald's Branded Sound
When you hear "I'm Lovin' It," you think of McDonald's. That is the power of a branded sound. This small, powerful soundbite, or sonic logo, sometimes with the words and sometimes not, can over time become associated with one brand. McDonald's was able to take a phrase and make it unforgettable.
The McDonald's branded sound is a common phrase that conjures images of enjoyment, fun, and delicious food. They chose this sound intentionally. By using a beloved phrase, McDonald's was able to imprint itself on the mind of its target audience.
The Honest Designers Show Podcast by Tim Ross, CEO and Founder of Design Cuts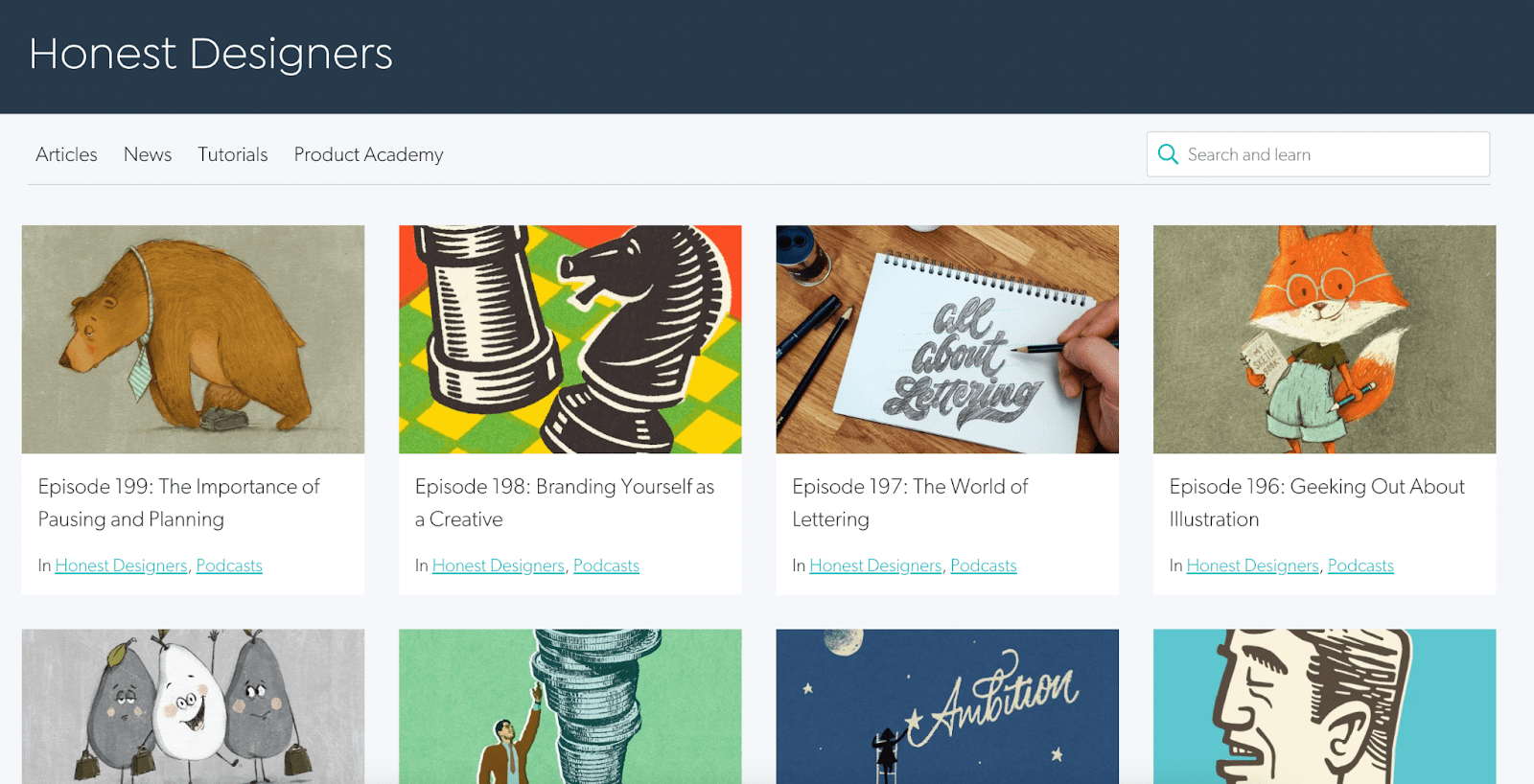 Tim Ross is a revered figure in the creative world. He capitalizes on his brand to create a successful podcast. In addition, his podcast gives insight into how to succeed in the creative industry.
Podcast listeners expect to get harsh truths, tips, and tricks about design from him and other industry leaders when listening to any podcast episode.
Many creators are always looking for inspiration. So, Tim Ross offers this inspiration, advice, and encouragement in every episode about anything from lettering to productivity and even animation.
Providing value to his audience is how Tim Ross markets his brand, Design Cuts. This personalized value makes this form of audio marketing successful for him.
In fact, no one wants to listen to a podcast that doesn't entertain them or add value to their life.
EA SPORTS Branded Sound
When looking at audio content, the branded sound is usually the most obvious way to market your brand.
Branded sound helps create a distinct brand audio identity. With a voice recording, sonic logo, background music, or a mix of all three, you can express your values and personality.
Given these points, EA SPORTS perfected this version of audio marketing. They have associated themselves with gameplay, game analysis, and various sports video games.
With their "It's in the game" branded sound, their audience can build an image and create a memory of their trademark. The branded sound also captures the feeling their viewers and listeners have when watching or listening to EA Sports.
The Netflix Audio Logo
Do you know that ta-dum sound that plays at the beginning of every show or movie on Netflix? That is effective audio marketing. As a matter of fact, many people use Netflix on a daily basis to help them unwind after a long day of work or school.
Netflix used a short, distinct sound clip, or sonic logo, to advertise itself.
Now, the Netflix audio logo has become so distinguishable that even without looking at the screen, you know it's time to "Netflix and chill." This move to make a concise but distinctive audio logo has helped them gain millions of subscribers.
Instead of having a long audio logo or running an ad, Netflix focused on developing a new, simple sound. Now the sound is so popular that last year there were several remixes of it on TikTok.
That audio logo opens the mind to pay attention, therefore sets the scene for a movie or TV show.
The Atlantic Audio Articles

The Atlantic decided to branch out of blog posts. Instead of focusing on just written content, they realized that the audio version of a blog post works just as well.
The Atlantic Audio Articles are audio versions of articles they write. As a result, they make getting information and news easier.
TikTok and podcasts have made a way for people to get information and news in video and audio formats. With this in mind, The Atlantic decided to capitalize on that by creating audio files of their articles and publishing them.
These in-depth breakdowns of top news stories with expert advice and intriguing opinions make for great listening.
With its audio articles, the Atlantic achieved a wider reach than it would with just a newspaper or a blog. Because they are not writing a podcast episode but simply narrating an article already completed, they can minimize costs.
They incentivize their listeners to subscribe to the Atlantic for more pieces when the audio article is complete.
Conclusion
To sum up, audio marketing is a simple and effective way to connect your audience to you. To reach those who value listening over viewing.
Can your brand benefit from adding an audio logo, branded playlist, or podcast?
With the ever-changing and evolving audio industry, new audio content forms will emerge. And with marketers always on the edge of innovation, audio marketing will be an exciting place to experiment and grow your brand.
Finally, we hope these audio marketing examples inspired you to keep an ear out for new ways you can reach your audience. There is no one-size-fits-all form of audio marketing. So keep innovating.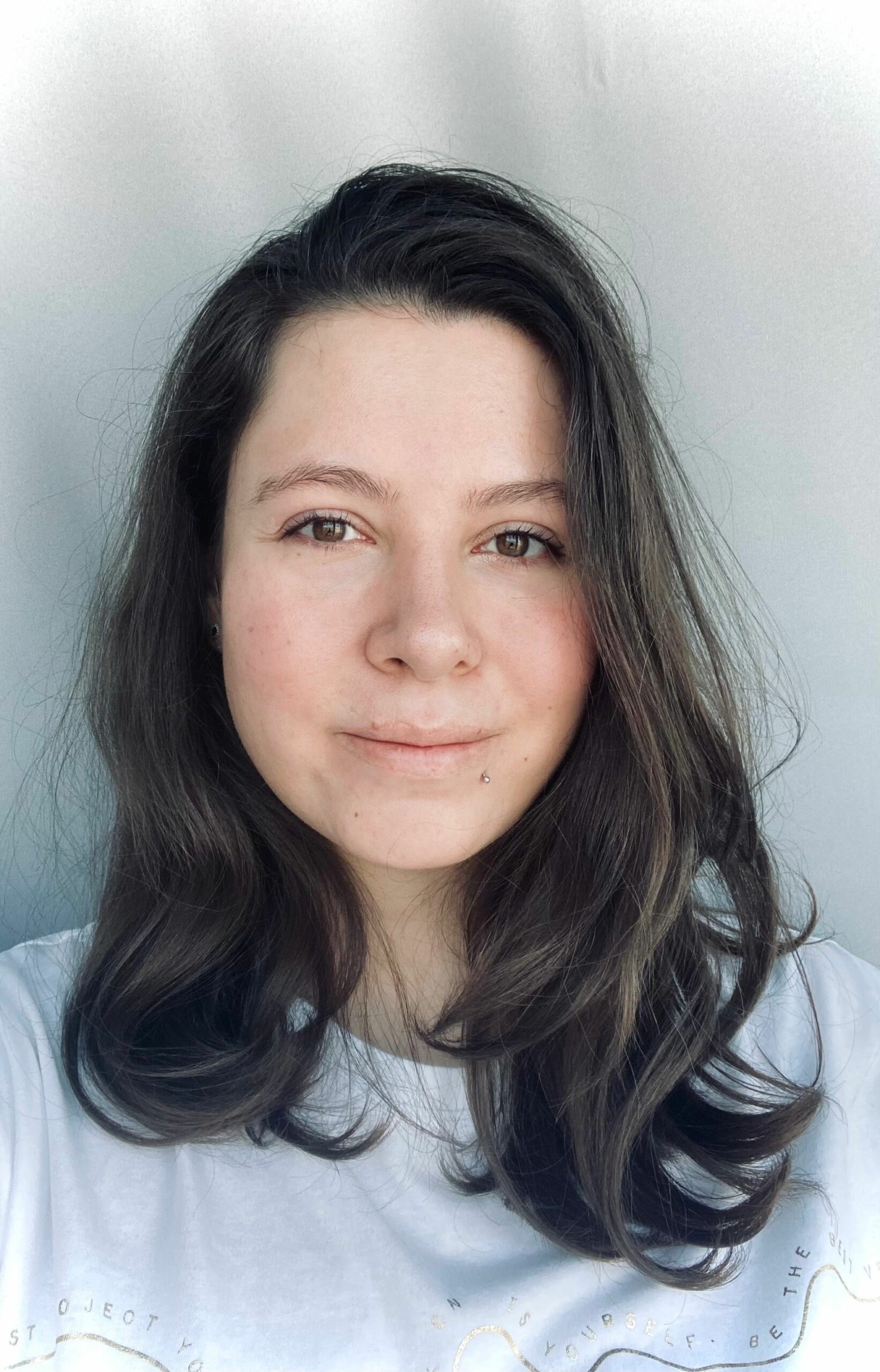 Darya lives and works in Kazakhstan as a Chief Editor at MarketSplash, a digital marketing and design publication. She loves writing about marketing and social media.