If you have a podcast and are on social media, it's time for a social media strategy for your podcast.
Podcasts are increasingly winning their place as a means of promoting products and services, monetizing knowledge, and sharing valuable information. Why? Customers don't always have time to read an extensive blog post. It may also be uncomfortable to watch videos. That's where podcasts have the advantage.
Audio podcasts are perfect for multitasking. You can listen to them while driving a car, doing household chores, or working out at a gym. Such convenience means users can self-educate, listen to like-minded people, and find inspiration without distractions from their daily routine.
As for podcasters, this type of promotion is one of the easiest to start. You need a microphone, headphones, computers, and an Internet connection. Suppose you determined what you want to share. You've recorded an episode. Now it's time to distribute it through various channels and encourage people to listen. How can you do it?
Use social media, such as Instagram, Facebook, LinkedIn, or Twitter. In this article, we'll explain the process of increasing your podcast listener base with the help of a solid social media strategy.
5 Tips for Making a Social Media Strategy for Your Podcast
There are various social media platforms where you can share your podcast. If you have a website for your show, be sure it is easy to find and play your episodes. If you don't have a website, you can use Wavve Link to get one up instantly, or use any of the podcast hosting platforms and directories as your home base.
However, you can't underestimate social media for podcast promotion. There are 4.6 billion active social media users now. So why not take advantage of these enormous opportunities to find people with similar interests? Let's look at the steps to improve podcast discoverability, drive more listeners, and strengthen their loyalty.
1. Determine Your Listeners and Where They Spend Their Time
Creating a listener persona is similar to defining a buyer persona in marketing. It helps you understand your audience, their age, hobbies, and pain points.
Knowing a typical listener is crucial for planning episodes. Whom do you address in your podcast? What city, age, and occupation do they belong to? You need to leverage this information to offer relevant content, launch paid ads, and maximize conversions. And you can find platforms where people spend most of their time.
How do you find the best option among numerous social media venues for promoting a podcast? It depends on your listener persona. Do you target active and younger social groups? Then, opt for Instagram or TikTok. These platforms are also suited for distributing much visual content, pictures, animations, and videos.
Case in point: Twitter entails writing concise captions and adding several images to posts. Another difference is that Twitter supports clickable links within posts. Instagram, in turn, lacks this opportunity. So you need to make an extra effort to involve people in listening to your podcast.
Here is how communication with listeners changes based on social media. Jay Acunzo is a host for the Unthinkable podcast. He shares inspiring stories on LinkedIn, Twitter, and Instagram. As you can see in the screenshots below, the Instagram post contains a short video and focuses on the visual experience. The Twitter post aims to grab users' attention with powerful text.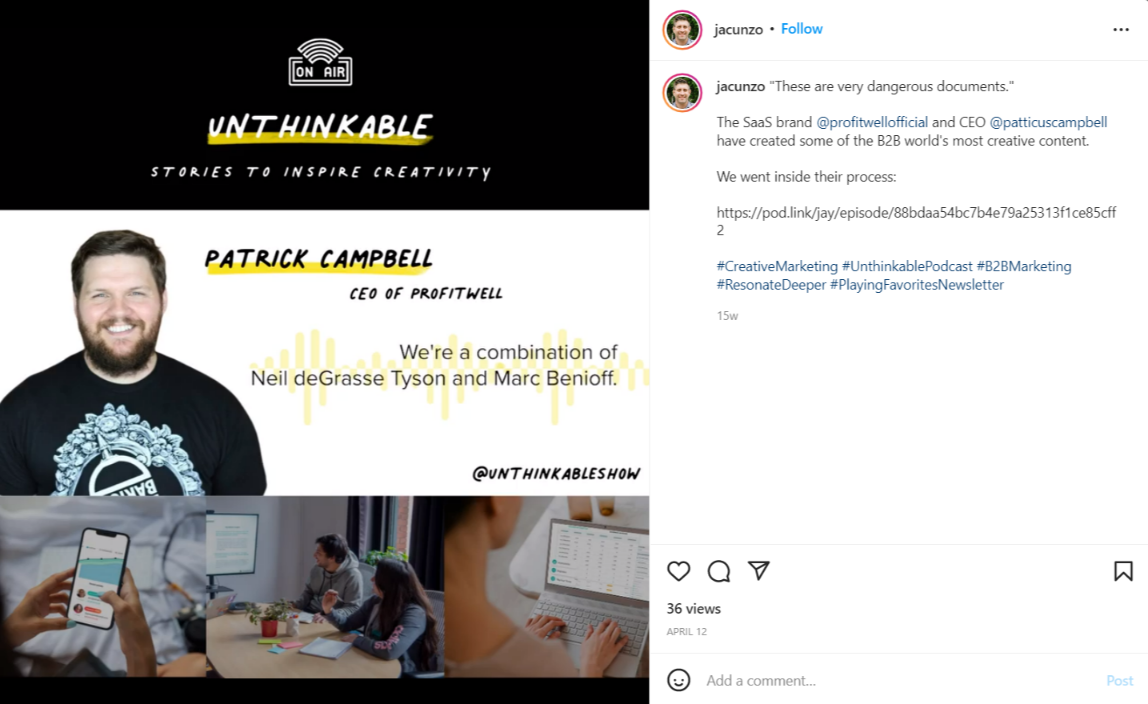 2. Employ the Right Hashtags in Your Posts
Hashtags are effective and free tools for promoting your podcast on social media. You can see them on Instagram, Twitter, Facebook, or LinkedIn. These are keywords you write after the # sign.
Hashtags help you group content under one topic. Users can click on them and see similar photos from others or type in a particular word in search and find your publications. Hashtags let you show relevant content to people with the highest interest in that specific hashtag and reach a larger audience.
Find a few broad hashtags, such as #housework, #cleaninghacks, #adulting, etc. They should characterize the topics covered in your podcast. You should also come up with a unique hashtag for your show. Despite that nobody may use it at first, a branded hashtag can help you begin to establish your community. It can also help your podcast become more recognizable.
Look at the example below from Troy Sandidge and his iDigress podcast. The podcaster adds several common hashtags like #Business #Growth #Entrepreneurship #MarketingPodcast. But he distinguishes himself from others with the help of hashtags like #FindTroy and #iDigressPodcast.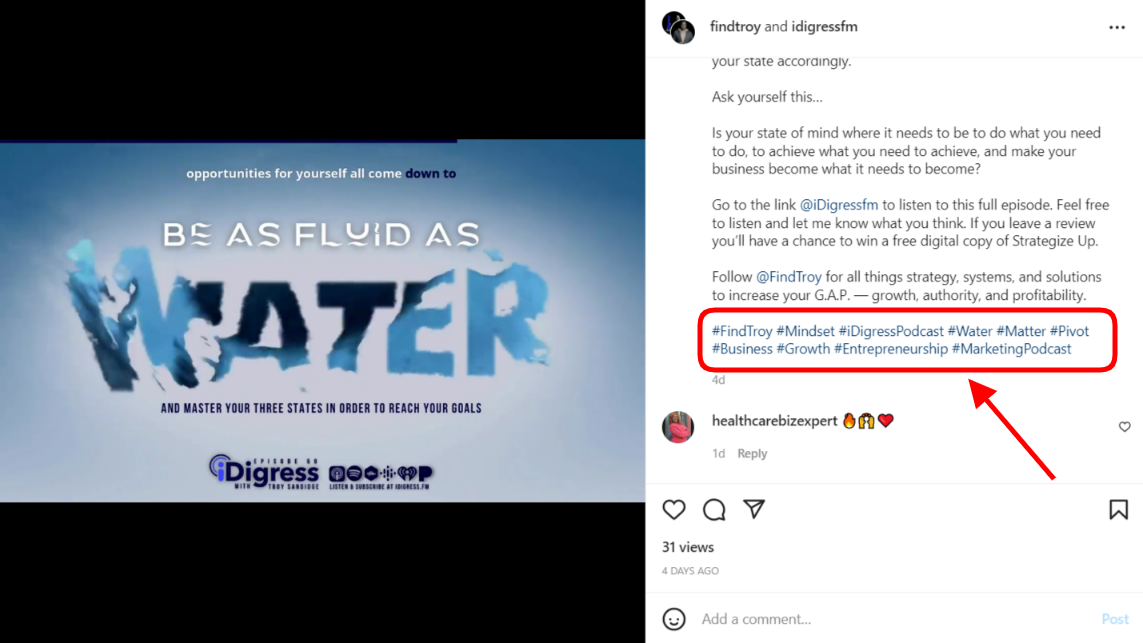 3. Give a Preview of Your Show in Brief Video Clips
Do you feel like your podcast needs some visuals to succeed on social media? You are right.
Wavve can help you create video from your podcast. Canva and Adobe can help you create graphics. Post videos and images that are relevant to the episode topic. For example, place quotes, statistics, or other visually relevant information.
Share excerpts from an episode clip with the URL to give followers a sneak peek of the upcoming event. Quote-based images and videos should summarize what the episode is about. Pick a memorable quote to spark your listeners' interest to proceed to the full version.
Statistics show people share videos 1200% more than texts and images. Get creative and add a human touch to your profiles. Record the process of interviewing guests and demonstrate behind-the-scenes to your audience.
Write captions to increase the video accessibility. If users scroll the feed with the sound turned off, can they still grasp what you are saying. It may inspire them to turn on the sound or listen to the whole episode. The Copywriter Club employs this strategy when promoting their show on Instagram.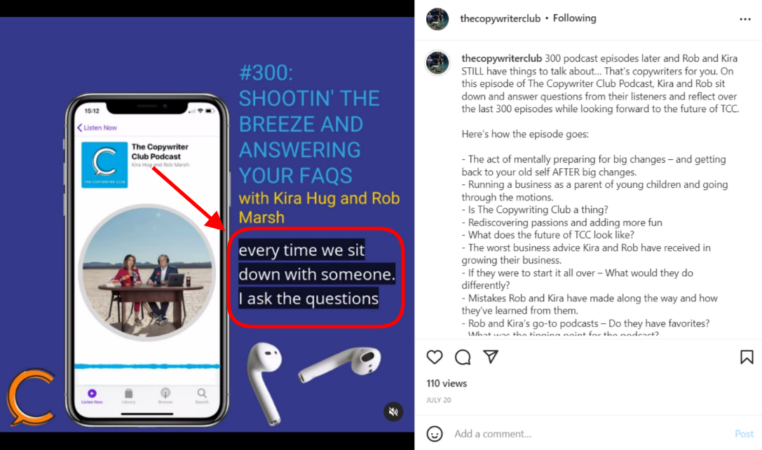 4. Run Contests and Giveaways
We all like gamification and free stuff, right? We feel happier and release more oxytocin when we receive free things. That's why giveaways are so popular on social media in the case of account promotion. They help you grow the listener base and entertain your loyal audience.
Contests rely on urgency and participants' inherent desire to win. Your task is to determine prizes and conditions for acquiring them. Note that rules should be easy enough to follow. Announce the contest during the broadcast so that listeners have an advantage over others when it's live on social media.
Distribute gift cards, product subscriptions, or a popular item in your business. Although prizes are an expenditure, increased traffic to your social media platforms will soon pay off. Plus, you expose new listeners to your show.
Check the example from The Worthy Mother Podcast below. The host specifies the rules for entering a giveaway, prizes, and when the giveaway will close.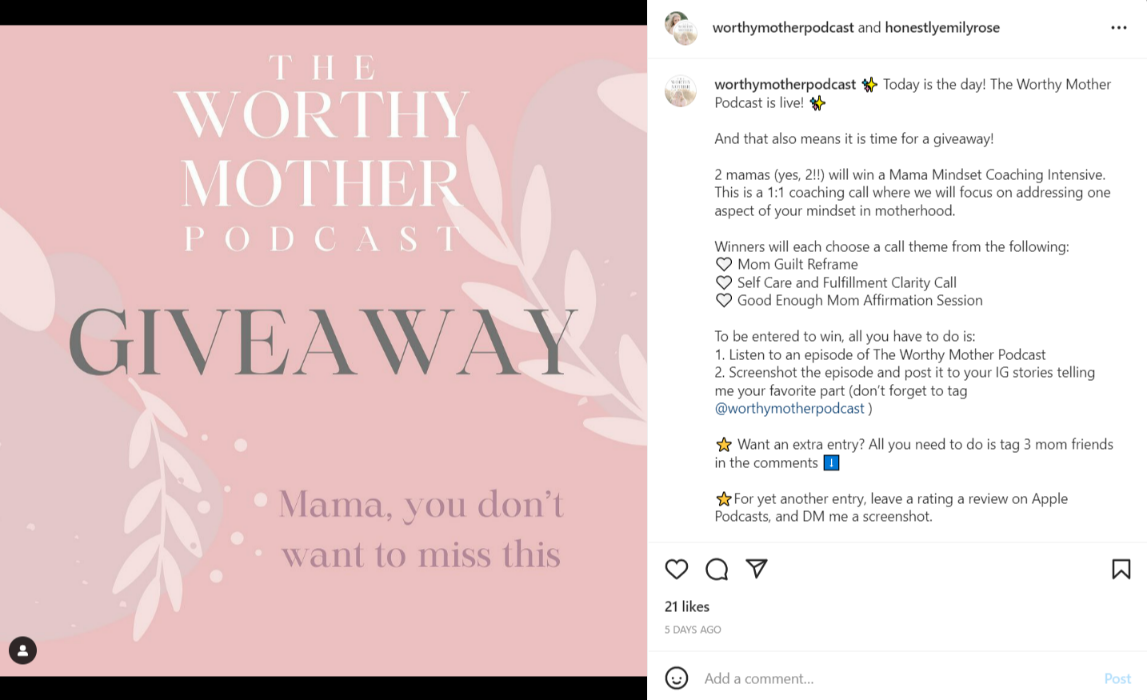 5. Regularly Publish Content
Frequency is a crucial part of social media promotion. Marketers often guess how often they should post to stay on top of the feed without annoying followers.
According to recent 2022 findings, a rule of thumb is to post not more than once a day and not less than once a week. You can attract followers four times faster by posting every day compared to doing it less than once a week.
How can you make algorithms work for you to display your posts to users? Create a calendar and determine the type of content to publish on which day. It may be Mondays for teasers with a preview before the episode is released.
Tuesdays may feature old episodes as evergreen content. Wednesdays are for new releases. Leave Thursdays for testimonials and responding to comments. Fridays may be suitable for light posts, such as personal stories or funny material.
That's where scheduling tools like SocialBee, Buffer, Later, or Hootsuite can help. Plan posts ahead of time to avoid disruptions.
Conclusion
Are you looking for ways to drive more listeners to your podcast? Do you have an active online presence? Then, a social media strategy for your podcast promotion is what you need. These social media platforms contain all the essential tools to create a buzz around upcoming episodes, repurpose old content, and engage followers.
Start with determining the most suitable platform. Adapt content for the chosen platform context based on its peculiarities. For example, Instagram is a visually-rich platform with interactive features such as a count-down timer, polls, quizzes, and more. LinkedIn, in turn, is better for sharing business-like and professional content.
Use hashtags, partner with influencers, and ask guests to promote episodes in their profiles.
Podcasts naturally don't provide visualization. That's where your social media strategy comes in to post images and videos along side your audio clips to create a comprehensive experience for your audience.
Stay organized and constantly publish posts to keep users engaged. And that's a solid social media strategy for your growing podcast.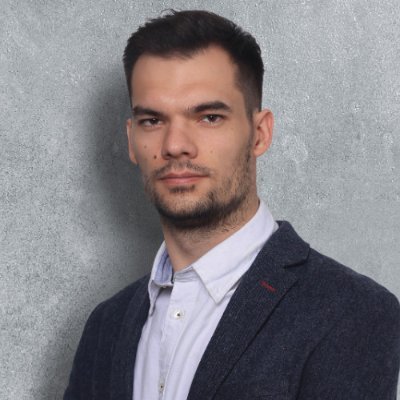 Alex Husar is the Chief Technology Officer at Onilab. For over 8 years, he's been working on Magento migration and development projects as well as building progressive web apps (PWAs). Alex is an expert in full-stack development who shares his expertise and in-depth knowledge of modern technologies and Computer Software Engineering.