When it comes to whether TikTok growth statistics point to a platform ripe for marketers and content creators, the answer is clear.
Tencent's WeChat and TikTok pushed themselves into the international market after the acquisition of Musical.ly in November 2017 for $1 billion. With this move, they added about 80 million users, mostly from the US, which were later on imported to TikTok.
TikTok then never looked back and was the most popular app in 2019 and 2020, with annual downloads of 693 million and 850 million each year, respectively. It became the seventh-most downloaded app of the 2010s, despite the fact that it was launched in the year 2016.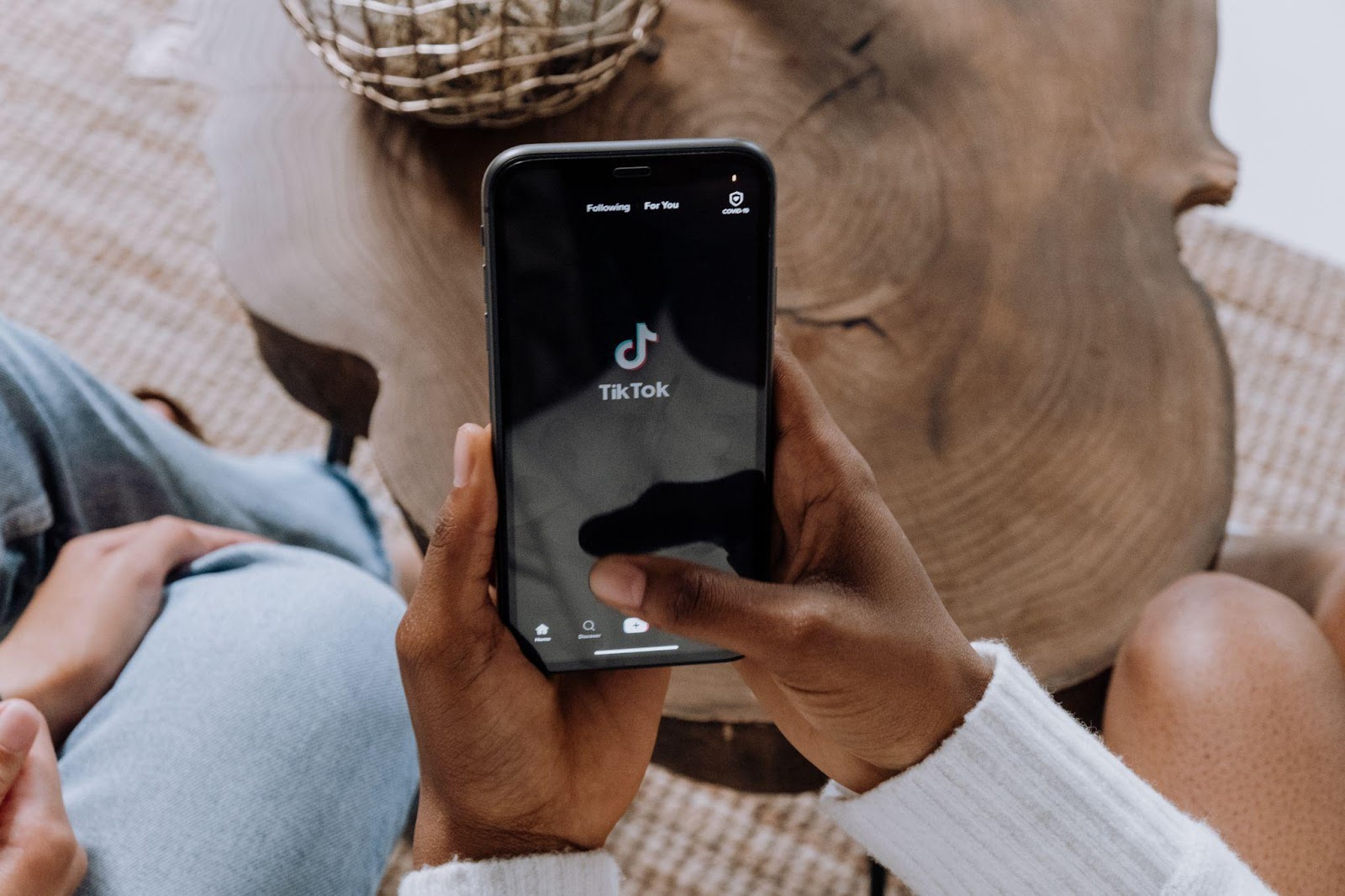 TikTok is one of the most controversial apps in the world. It faced several bans, including the ones from India and Pakistan, which were, however, rescinded after some time. However, India banned it again in June 2020 concerning national security and morality issues.
Since India was one of the biggest markets for TikTok, and it upheld the ban in January 2021, it led to various TikTok clones in the region. Despite all the issues, TikTok remains one of the fastest-growing apps in the world.
Let's look at some of the most amazing data and statistics about TikTok growth and usage worldwide.
TikTok Statistics (The Highlights)
Active Users: The app has 1 billion active monthly users. It is the 6th most active app after Facebook, YouTube, WhatsApp, Instagram and WeChat.
Market Capture: Among the total of 4.8 billion internet users, TikTok is used by 21 percent of the total users.
Total Downloads: The app has been downloaded 3 billion times and is the most downloaded app of 2022, with more than 650 million downloads.
Stand Out In The Competition: Despite being launched in 2016, it has surpassed Telegram, Twitter, Reddit, Snapchat, and Pinterest in active monthly users.
Total Valuation: TikTok is owned by ByteDance, which is valued at $275 billion.
User Growth Rate: TikTok observed an increased rate of 1,157.76 percent in its global user base from January 2018 to July 2020. Whereas it saw 787.86 percent in the US.
Engagement: TikTok is among the most engaging social media apps, with an average session length of 10.58 minutes. It is being used for more than 90 minutes a day by its user. And the users open it 8 times a day on average. Back in 2019, TikTok observed a whopping 68 billion hours of time spent by users.
Influencer Earning: With 100 million followers, TikTok influencers earn up to $5 million yearly. The most popular categories for content creators are dance, entertainment, fitness, DIY, and pranks.
TikTok Statistics on Global Users
TikTok has more than 1 billion active users. By Q4 2021, there were 1.2 billion monthly active users, and it is expected to reach 1.8 billion by the end of 2022.
The total number of internet users around the world are 4.8 billion, of which more than 25 percent use TikTok regularly.
Talking about social media users, out of 4.48 billion users, more than 30 percent use TikTok on a regular basis.
Despite the nationwide ban threats after the entanglement with the Trump Administration, TikTok is evenly popular across the United States.
Let's have a look at the role the US is playing in the growth of the app in terms of users and revenue.
TikTok Statistics on American Users
Starting from 2020, the active monthly user count of the TikTok app in the United States was 66.5 million. At that time, the app observed growth of 800% compared to the monthly usage in 2018.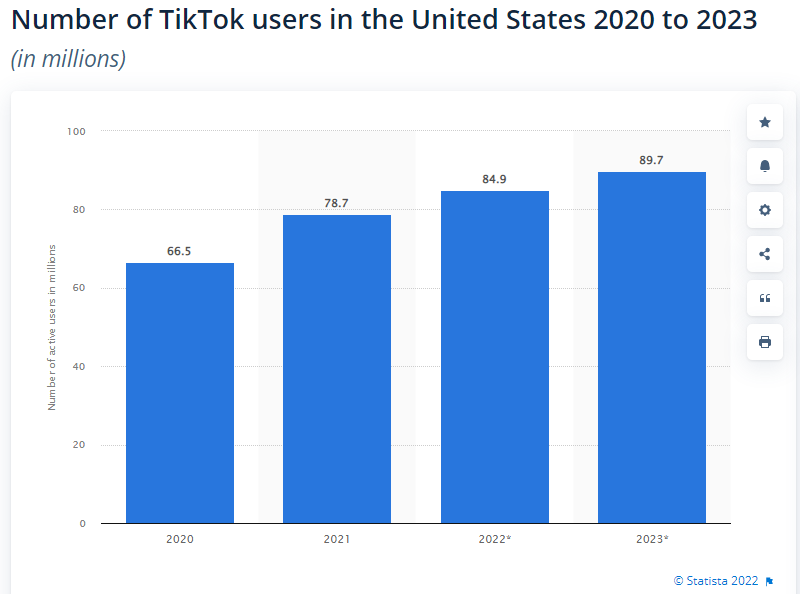 The total monthly users have reached 85 million in the current year and are expected to reach 90 million by the start of 2023.
More than 50 percent of the monthly active users are from the United States.
Nearly 32 percent of the active social media users at least open up the TikTok app once a month. The penetration for Instagram and Snapchat is 53.9 and 40 percent, respectively.
Currently, there are about 301 million mobile users in America; of them, 28.23 percent use TikTok at least once a month.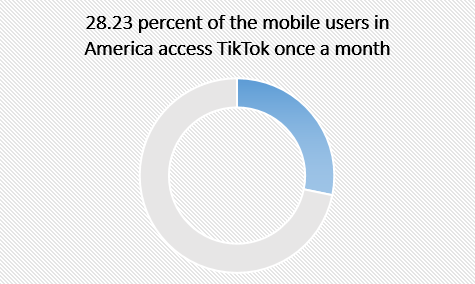 With 50 million daily active users, about 16.61 percent of the mobile users use TikTok on a daily basis in the United States.
Female usage of the TikTok app in America is 60 percent.
With 37.3 percent using the app once a month, the Gen Z penetration is relatively high in America.
After Facebook with 35 minutes, TikTok is the app with the most time spent per day by adults, i.e. 33 minutes.
TikTok's Overall Worth
In 2018, TikTok was worth $7.4 billion, and it doubled its value in the next year to $17 billion.
After its four years of launch, the ByteDance investors valued TikTok/Douyin at about $50 billion USD in the year 2020.
Currently, the estimated value of the startup is $110 to $180 billion, which makes it the most successful startup of all time.
TikTok Revenue Growth
TikTok generated $4.6 billion, an increase of 142 percent as compared to the previous year.
TikTok is estimated to generate revenue of $12 billion by the end of 2022.
TikTok is estimated to boost its ad revenue to compete with YouTube by the year 2024 with $23.6 billion.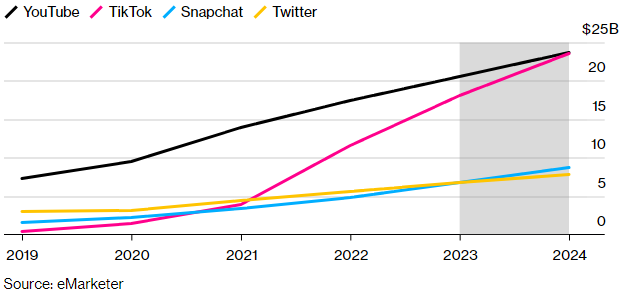 TikTok's parent company is at the top with year over year growth rate in terms of revenue.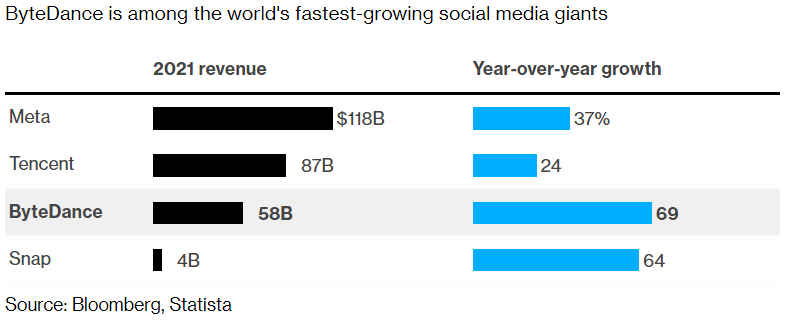 Let's have a quick look at TikTok's annual revenue.
2017: $63 million
2018: $150 million with a growth percentage of 138.09% by the previous year.
2019: $350 million with a growth percentage of 133.33%.
2020: $2640 million with a growth percentage of 654.29%.
2021: $4697 million with a growth percentage of 77.91%
2022: An estimated $12000 million with a growth percentage of 155.48%.
Conclusion
That is what I have got for you in regards to TikTok's revenue and user growth statistics. Despite all the challenges, bans, and hurdles, TikTok has managed to rise to the top in the market. It was the most downloaded app in 2021 and has a very bright future as well.
Where the attention is, the marketing dollars and content creators follow. The question is, do these TikTok statistics change your mind about this controversial company?
Sources
https://www.cnbc.com/2020/08/24/tiktok-reveals-us-global-user-growth-numbers-for-first-time.html
https://www.cnbc.com/2020/09/15/bytedance-douyin-has-600-million-daily-active-users.html
https://www.statista.com/statistics/617136/digital-population-worldwide/
https://backlinko.com/social-media-users
https://www.bankmycell.com/blog/how-many-phones-are-in-the-world
https://www.worldometers.info/world-population/
https://www.smartinsights.com/social-media-marketing/social-media-strategy/new-global-social-media-research/
https://www.cnbc.com/2020/05/27/tiktok-bytedance-profit.html
https://influencermarketinghub.com/tiktok-stats/
https://www.alexa.com/siteinfo/tiktok.com
https://www.reuters.com/article/us-bytedance-tiktok-exclusive-idUSKCN24U1M9
https://www.bloomberg.com/news/articles/2020-05-27/bytedance-is-said-to-hit-3-billion-in-profit-as-revenue-doubles
https://techcrunch.com/2020/01/06/douyin-tiktok-app-in-china-hits-400-million-daily-active-users/
https://www.bloomberg.com/news/features/2022-06-23/tiktok-becomes-cash-machine-with-revenue-tripling-to-12-billion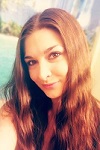 Claudia Jeffrey works as an Editor at Crowd Writer, where she is responsible for all the online content publications. She is highly skilled at research and statistics. Claudia often blogs at Word Count Jet, where she shares her experience with readers.