So, your audiobook is finally ready. Perhaps, you already have a few book recordings under your name.
Congratulations! You're on the right track.
The audiobook market is predicted to grow to $33.5 billion by 2030, with an impressive compound annual growth rate (CAGR) of 26.5% from 2022 to 2030.
The future is bright for this industry. But here's the big question.
How do you make your audiobooks visible to this large market?
When listeners search for something new, which techniques will build interest in your audiobook and help you sell more? Let's find out.
6 Techniques Guaranteed to Help You Sell More Audiobooks
We'll share with you six effective methods you can use to make your audiobooks more discoverable to your target market and drive their sales up.
1. Create a Landing Page For Your Audiobooks
Attracting visitors to your author website doesn't guarantee they'll buy your audiobooks. To effectively sell your work via search, start by creating landing pages for the books.
A landing page is a standalone web page designed specifically to market your audiobook.
It's where your visitors land after clicking on your link on a search engine. Or other platforms you use in your audiobook's digital marketing campaigns.
The landing page will contain the title of your audiobook, its description, and links to where they can buy it. The page is targeted toward driving its sales, and that's what makes it so effective.
Have a separate landing page for each of your audiobooks. In addition, ensure each landing page is consistent with your brand as well. It can help you get more sales out of each customer, increasing their customer lifetime value, because you can sell any other offers you may have there.
Keep in mind that you're selling your personal brand, not just the audiobooks. Finally, it needs to be optimized for search, so make sure you conduct keyword research well and follow SEO best practices for it.
How to Create a High-converting Audiobook Landing Page
Include an actionable call-to-action (CTA) and place it prominently.
Your value proposition should be before the scroll. Tell the reader the benefit of your audiobook.
Craft every sentence with the intention of selling the value your audiobook carries.
Use bullet points in order to make your copy digestible.
Add a few book reviews and customer testimonials to build trust and sell more.
Conduct A/B tests to optimize your landing page so that it can help you sell the most audiobooks.
Tip: Have an eye-catching cover for your audiobook. All in all, it should catch the users' attention and make them curious to go through the description on your landing page and buy.
2. Sell More By Optimizing For Voice Search
Some of your listeners will conduct verbal searches to find audiobooks. In this case, optimize your author website for voice search to target these users and sell more.
Voice search optimization streamlines the information on your website to appear in voice searches.
To begin with, use the right keywords.
Google crawls your audiobook title and description to rank your page in SERPs.
To focus on voice search, you'll want to use conversational long-tail keywords in your descriptions. Consumers using voice search use natural question-based search terms that start with words like "Who, What, Why, How, and When," to do a voice search.
Focus on a single primary keyword for each audiobook.
Make the descriptions as descriptive as possible to make search engines aware of what your audiobook is about. It'll also help the page rank for multiple keywords, thus increasing the chances of it being discovered through voice searches.
Keywords or keyphrases should be the following:
Cover the main topics in your audiobook;
State the value of listening to the audiobook; and
Be front-loaded with the main keyword
3. Optimize Your Author Website For Mobile
Mobile devices accounted for over 58% of search traffic in the second quarter of 2022.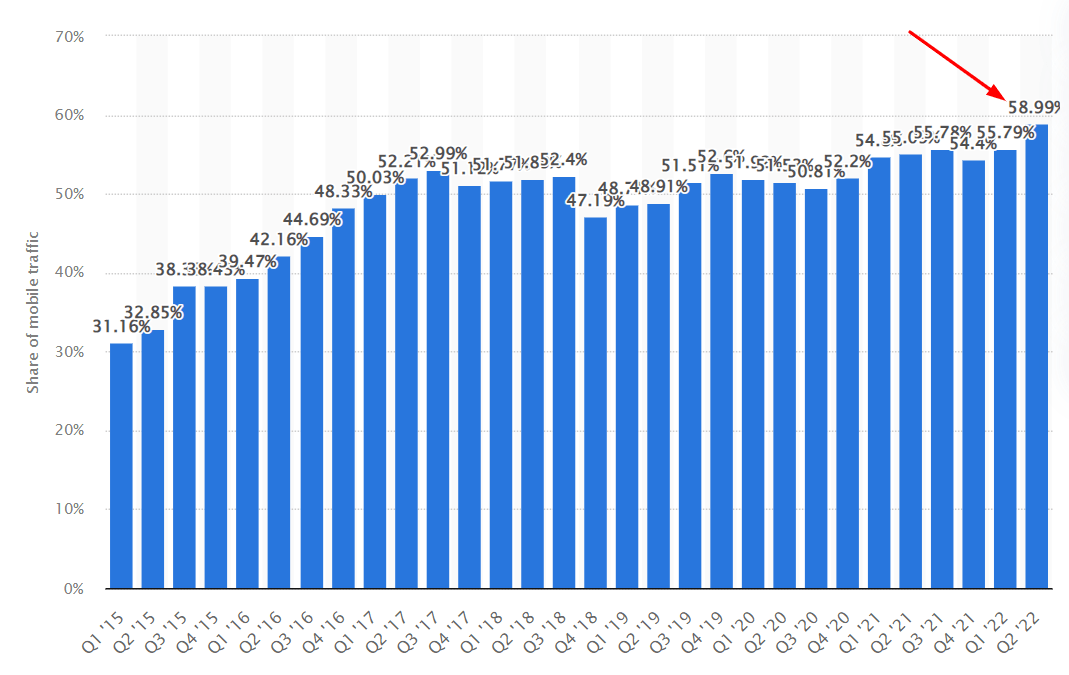 Loads of people use mobile devices to listen to audiobooks as they drive, do household chores, travel, or commute. And given the fact that most people use mobile devices to search, it's likely that they'll also land on your website on smartphones.
By not catering to mobile users, you're throwing away over half of your potential sales.
Here are a few actions you can take to avoid this mistake:
Increase the page loading speed. Google's PageSpeed Insights can help you optimize the load speed of your website for smartphones.
Keep your copy short and punchy. Avoid walls of text as much as possible.
Use responsive design for your website (Meaning it adjusts to any screen size.)
Keep the CTA above the fold. It's important to realize that mobile users shouldn't have to scroll down to find your purchase button.
Use a single-column layout. It suits the scrolling behavior of mobile users.
Tip: Get lead generation software with a landing page builder that offers a mobile preview mode for your author website. It can help you design powerful landing pages without any coding.
4. Promote Your Audiobooks On YouTube
YouTube has over 2 billion users, making it the second-largest search engine in the world after Google.
You don't want to ignore it, as it's undeniably one of the most effective ways to sell audiobooks via search.
You can create a video snippet of your audiobook while you give a preview to your audience on YouTube. It would serve as a trailer and could play an important role in getting people to buy the whole version. Try Wavve for the easiest way to generate video from an audiobook clip.
Tips for Creating Effective Trailers for Your Audiobooks
Consider the following points below in making compelling audiobook trailers:
Match the tone of your audiobook. Whether it's professional or playful, use the same tone for your trailer. Not to mention that there should be no disconnect between what they get from the trailer and what the audiobook offers.
Be concise. A trailer that's under one minute will get the viewer excited and make them curious without giving away too much or boring them.
Create tension and intrigue by showing them what they stand to lose once they don't buy the audiobook. Introduce a twist as much as you can.
Use music to set the mood for the trailer. Ensure it fits the genre of your audiobook.
Once you have their attention, end with a CTA. Let them know where they can get the full audiobook. You can drop the link to your landing page in the video description.
When you post your trailer on YouTube, half the work is complete. The next bit revolves around increasing its reach on the platform.
Tricks When Using YouTube SEO for Your Audiobook
Follow these SEO techniques to get in front of your audience when using YouTube as a platform:
Use your main keyword in the title and video file name.
Write a short description that makes an impact in the first 100 characters.
Use popular keywords that relate to the content of your audiobook in your tags. It'll help YouTube associate your trailer with similar videos, which increases your reach.
Categorize the trailer well to group it with similar videos and gain exposure to a larger target audience.
Use an eye-catching and custom thumbnail.
Tip: Embed the audiobook trailer on your landing page to capture the attention of visitors. It can be the nudge they need to buy it.
5. Distribute Widely To Sell More
Cast your net wide to sell more audiobooks.
Upload your audiobooks on numerous streaming platforms to maximize your reach and remove any barriers for people who want to buy them.
This is especially important when you want to make your audiobooks discoverable to different voice devices.
It is because each voice device searches within its respective framework first.
For instance, Alexa will search on Audible first, while Siri will do so on Apple Books. Google Voice Search searches in Google Play Books before heading to other platforms.
So, it's best to have your audiobooks available on all these platforms if you want to reach more people and sell more. While at it, make sure your audiobook's description includes your keywords to increase its discoverability.
Besides, making your audiobooks available with numerous digital retailers makes it easier for search engines to discover them.
For instance, note how The Picture of Dorian Gray is available on Audible.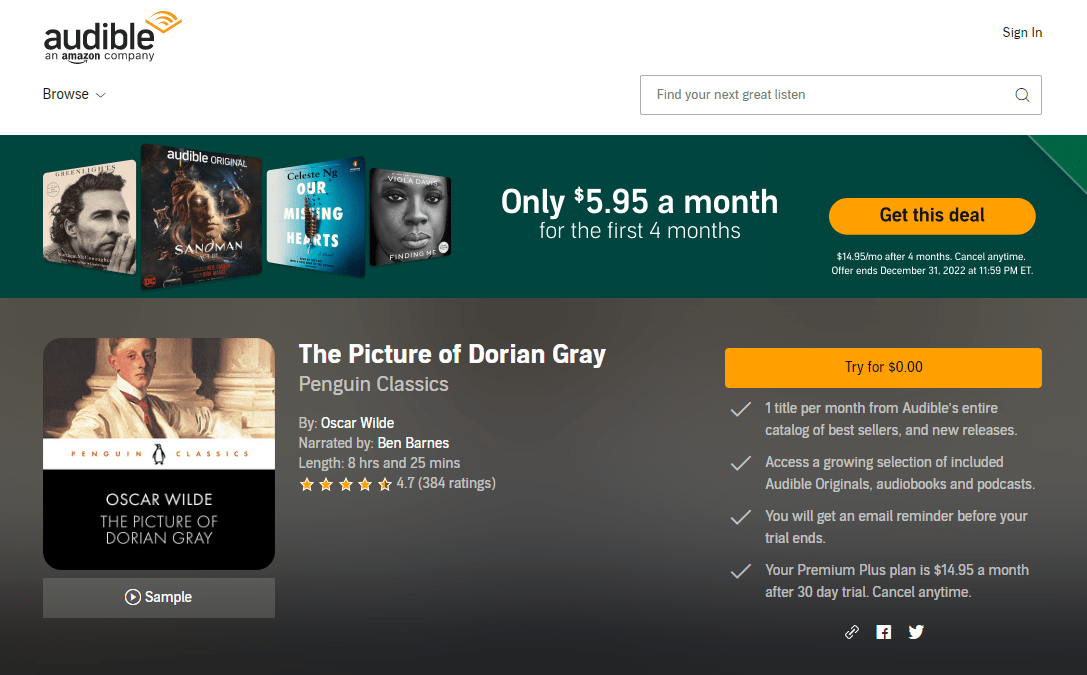 Similarly, it's available on Google Play Books as well.

6. Promote Your Audiobook On Social Media
According to statistics on social media usage, there are over four billion social media users. In reality, that's over half of the world's population.
So, you can be sure that promoting your audiobooks on social media networks will help you reach a wider target market and sell more.
How do you achieve this?
Firstly, identify the social media platforms your target listeners use the most.
If your audiobooks resonate with seniors over 65 years young, you'll mainly find them on Facebook. If it targets 18-29 year olds, you may want to focus on Facebook, Instagram, Snapchat, and TikTok.
Use a platform like Wavve to turn audio into video clips that you can share across social media. Next, write catchy descriptions for these videos so that people searching for keywords related to your audiobook on social media find your videos.
Now, once you use these visuals and snippets to capture attention, use powerful CTAs with links that direct the audience to the platforms where they can buy the audiobooks.
Start Taking Action To Sell More Audiobooks
It's easy to sell audiobooks via search if you play your cards right.
Start by creating a landing page for each of your audiobooks and ensure they're optimized for SEO and conversions.
Think about the potential customers who use voice search to find audiobooks and optimize your author website for this segment of your audience. Also, ensure your book is easily available for each voice search device by listing them on multiple audiobook platforms.
Finally, create videos out of your audiobooks and share them across the social media platforms your target audience uses the most.
Tailor these techniques to suit your needs. Continuously measure the results of your efforts and make necessary changes to create an effective marketing strategy for your audiobooks.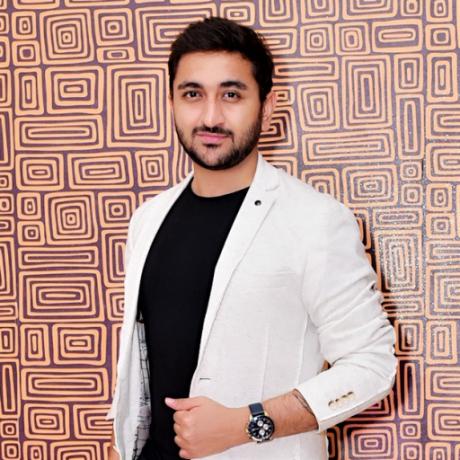 Gaurav Sharma is the founder and CEO of Attrock, a results-driven digital marketing company. He grew his agency from 5-figures to 7-figures in revenue in just two years. He also contributes to top publications like HuffPost, Adweek, Business 2 Community, TechCrunch, and more.